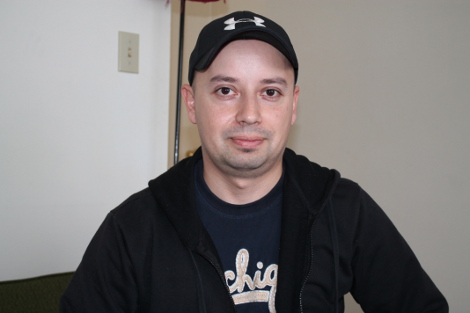 What is Sault Ste. Marie's most important asset?
Our people, of course.
Fernando San Martin, (shown here) a native of Chile who has lived and worked in Sault Ste. Marie since November 2011, agrees with that.
"People are friendly, very kind. Here it is so quiet, no noise in the street."
At first, Fernando thought it was perhaps too quiet, he told SooToday.com.
"My first day in Sault Ste. Marie, I thought where are all the people?" he laughs.
Fernando hails from the Chilean city of Concepcion, a busy city situated 500 kilometres south of the Chilean capital of Santiago.
Fernando is a professionally-trained and experienced forestry engineer who first moved to Canada in July 2011, and now lives in Sault Ste. Marie's downtown core, where he shares an apartment with fellow Chilean forestry engineer Marcelo Orellana and Marcelo's artist girlfriend.
Fernando currently works for Terrafact Canada Inc., which operates its Sault Ste. Marie office at Algoma University's Bio-Sciences and Technology Centre at 1520 Queen Street East.
Terrafact provides the resource sector with high resolution aerial images and biometrics using sophisticated software, to replace pricey and potentially dangerous field work, to maintain and detect any changes in remote lands owned by private sector companies.
Terrafact also operates offices in Wikwemikong, Nipissing, Taiwan and Fernando's native Chile.
"When I arrived in Canada in 2011 I was working in the field for a few months, I was traveling to many little towns in the north of Ontario, doing research on trees for the MNR, close to Timmins and Chapleau. I worked in Algonquin Park in the east too. That was really beautiful."
"Now I am working with photo interpretations of the boreal forest. We work with GIS technology and make high resolution aerial photos…I like my job," Fernando says, describing it as great professional experience.
Fortunately, unlike many foreign-trained professionals in recent years, Fernando had no trouble finding work in his chosen field in Canada, and did not have to go through a long wait for his credentials to be recognized in this country.
While working farther north, Fernando immediately noticed Canadian wildlife.
"Up north I saw bears, wolves. That for me was really impressive. One time I saw a rattlesnake. I was really scared! I had never seen a rattlesnake, just in the movies!"
Fernando says he is enjoying life in Canada, with the exception of our harsh winter weather.
"Last winter was not bad. This year was too much!"
Not eager to try skiing, skating or other outdoor winter activities, Fernando spends much of his free time as a drummer.
Fernando told us he is in the process of putting a band together and hopes to play in local venues beginning this summer.
"I like classic rock. The Police, Guns n' Roses, Journey…the musical culture in this city is very good."
Fernando's home city of Concepcion, he told us, is considered the musical capital of Chile.
"I've been to local bars to listen to groups and in this town I think there are many talented people."
With music described as the universal language, Fernando says his involvement in music has helped him connect with many people in Canada.
Because Fernando's work involves the great outdoors, he says he admires the natural beauty of Sault Ste. Marie and area.
"Beautiful landscapes, beautiful lakes and beaches," he says.
But again, Fernando maintains our greatest local asset is our people.
"Most important, it's the people. You can walk any time on the streets. It's quiet and friendly. I like that."