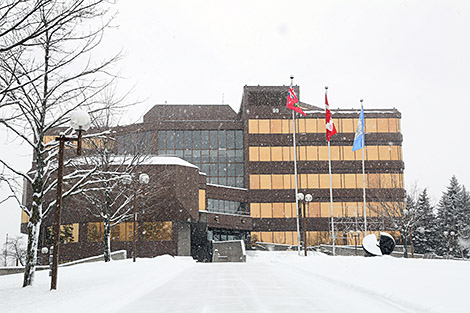 While the Conservative government is enthused about its 2014 budget unveiled by Finance Minister Jim Flaherty Tuesday as a major stepping stone towards wiping out Canada's deficit by next year, and while Opposition parties criticize it for not addressing the needs of Canadians, the City of Sault Ste. Marie's top staff official has shared some of his own thoughts on the budget.
Chief Administrative Officer (CAO) Joe Fratesi told SooToday.com Wednesday that a clearly-worded, long-term commitment from the federal government is needed in regards to affordable housing for municipalities.
Fratesi said there is wording in the budget concerning the need for affordable housing in Canada, but no clear action plan.
Fratesi said: "Everyone is really concerned, because there is some federal participation and involvement in social housing that over the next short period of time will be disappearing, and if there is no announcement soon that the federal government will renew its commitment to participate in social, affordable housing like it has been for a very long period of time, there is concern it will filter its way down to municipalities to deal with."
Fratesi referred to a report he has read which states $1.5 billion in social housing will be lost over the next five years as a result of expiring federal investments, which would mean one-third of the country's social housing units (homes for half a million Canadians) would eventually be lost.
"It's important there be some commitment made…the money would go from the federal government to the province then down to us."
"(Without that commitment) the local taxpayer will face the added burden, or else local folks won't have housing made available to them," Fratesi said.
"I know the province has been asking the federal government to renew its commitments to expand badly needed affordable, social housing, but there was nothing tangible in the budget in regard to timelines or any firm commitment."
The 2014 budget states: "The Government will continue to work with provincial and territorial governments, municipalities, the Federation of Canadian Municipalities, and other stakeholders at the community level to ensure the accessibility and sustainability of housing, including social housing, for those most in need."
That same Federation of Canadian Municipalities (FCM), however, has stated: "(The government's) renewed budget commitment to work with municipalities on the sustainability of affordable and social housing without timelines or an agreement to an action plan provides no assurances of concrete results to fix Canada's housing crunch."
Fratesi also expressed concern over the need for the federal government to address municipal infrastructure needs.
For infrastructure, the Harper government has a $14 billion, 10-year Building Canada Fund, part of a larger $53 billion Building Canada plan, which includes $21.8 billion over 10 years through the Gas Tax Fund and $10.4 billion over 10 years under the incremental GST Rebate for Municipalities.
However, municipal leaders, it seems, will have to wait a while longer to get specific details of how their communities will benefit from that funding.
The budget includes plans to provide Parks Canada with $391 million over the next five years to make improvements to highways, bridges and dams in national parks and historic canals.
Fratesi said: "That $300 million is not a very significant amount Canada-wide, but it's something…I expect the details of the bigger program will be announced in next year's budget or in an election platform."
Fratesi emphasized: "Most of the public infrastructure in Canada is owned by municipalities, so we need not only a one-year announcement, but a long-term infrastructure plan to address infrastructure decay."
"We need a long-term plan from the federal government so we can do our own long-term planning...we need the 10-year plan, not the one-year plan."
That information will come in enormously useful, as the City of Sault Ste. Marie is in the process of looking at its asset management plan to determine the lifespan of the infrastructure the City owns, and needs to put in place a plan that manages the repair and renewal of all City infrastructure over the next several years.
As it stands, municipalities will have to wait to find out which projects are eligible for funding before applying for support for infrastructure projects.
The government has stated it is consulting with the Federation of Canadian Municipalities to work out details of applying for federal government funding for infrastructure projects, and hoping to launch the program by March 31.