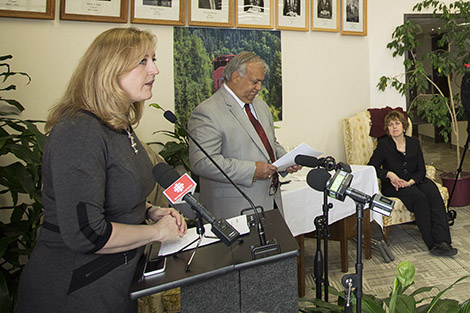 During a press conference Monday morning, Transportation Minister Lisa Raitt praised the work MP Carol Hughes did to help convince the government to extend a subsidy to CN Rail, allowing the ACR to operate for an additional year.

Raitt said she was impressed that Hughes and Sault Ste. Marie MP Bryan Hayes approached her from two sides, across the aisle and from the back-bench, to come to a solution in the matter.

The feeling, it seems, is not mutual.

Hughes, who is the Member of Parliament for Algoma-Manitoulin-Kapuskasing and a member of the New Democratic Party, was highly critical of the government's role in creating what she called an "unnecessary crisis."

In a release dated Monday, Hughes said
"The government knew that CN would not continue service without the subsidy," said Hughes in a release dated Monday.

Hughes feels the government should have done their due diligence and consulted with stakeholders before cancelling the subsidy in the first place.

Resident Bill Gunn, who owns a cabin near Mekatina that would be affected by the potential stoppage of passenger traffic, agrees.

Gunn wants to see money put into improving roads in the area, funded by gas taxes and fees from licenses, but admits that roads are a provincial concern.

"We need to look at Northern Ontario in a different way," says Gunn, who is concerned that federal and provincial governments see Northern Ontario only as a place to extract resources from, not to invest in.

He would like the province to create a new designation of road, which he calls a "recreation access road" which would not require being built to MTO standards.

"We don't want them (the roads) upgraded to a highway, we're not interested in paving them," said Gunn.

Gunn managed to bend the ear of the transportation minister after the event, but does not hold much hope in the passenger rail extending past the spring of 2015.

"I think she was sympathetic, but I don't know if her hands are tied," said Gunn.

Hayes said during the event he has agreed with every decision Raitt has made so far as transportation minister, "As a back-bencher maybe I tow the line, but the line is a great decision so I have no issue towing that line."

Hughes added she appreciates the subsidy being extended for an additional year and hopes the stakeholders are able to negotiate a long-term solution with CN.
(PHOTO: MP Carol Hughes sits and listens as Transportation Minister Lisa Raitt makes a funding announcement April 14, 2014 in Sault Ste. Marie. SooToday.com/Kenneth Armstrong.)
The full text of a release from Member of Parliament for Algoma-Manitoulin-Kapuskasing Carol Hughes follows.
*************************
ELLIOT LAKE - With news that the government will provide funding to maintain passenger service on the Algoma Central Railway for another year, Algoma-Manitoulin-Kapuskasing MP, Carol Hughes is chastising the government for creating a crisis in the first place.
"The government knew that CN would not continue service without the subsidy," said Hughes. "Instead of performing due diligence and consulting with stakeholders, the government created a crisis that they also allowed to reach the 11th hour."
Hughes predicts that given enough time, stakeholders will find a long term solution that will create a climate of stability for businesses, communities, and property owners that benefit from the service.
"We saw this work out for the Huron Central and I expect as much for the ACR too," said Hughes. "There is a lot of support for passenger rail in the region and recognition of its importance for the economy as well. I think with enough time to seek alternatives, the stakeholders will find a workable solution."
Hughes maintains her criticism of the process that categorized all communities along the ACR as rural with public road access, citing the example of OBA. That community will have to rely on a private industrial road entirely without passenger service.
"At the end of the day, the government was wrong to remove the subsidy, but they won't admit as much and the time has come to look forward and focus on solutions," said Hughes. "I am pleased that I was able to get the Minister's ear and appreciate her securing one year of bridge funding which will prove helpful to stakeholders as they work toward a long term plan."
*************************