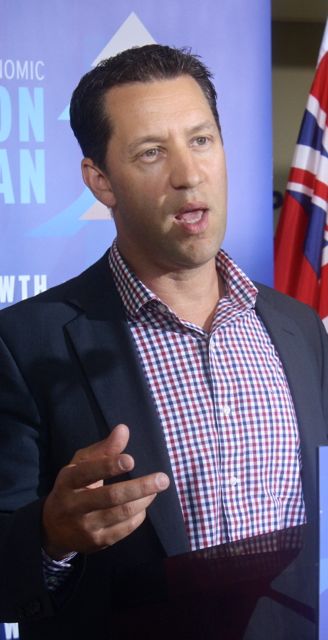 NEWS RELEASE
DAVID ORAZIETTI, MPP
*************************
Provincial government calls for fair deal
The Federal Budget, which was released yesterday, failed to address ongoing imbalances in transfer payments by refusing to provide Ontario $641 million in support for important public programs, David Orazietti, MPP announced today.
"The federal government is short changing the people of Ontario and undermining the province's ability to deliver high quality public services, such as health care and education as well as highway infrastructure funding that is particularly important to northern residents," said Orazietti. "The ongoing cuts illustrate that the federal government is determined to balance their budget at the expense of Ontarians."
In recent years, the federal government has eliminated funding for programs in health care, environmental protection, community safety, and skills development and training that Ontarians rely upon to create jobs and grow the economy.
Funding cuts to important provincial programs include:
$641 million in Federal Government funding cut from Ontario for transfer payment protection
$390 million in Federal Government funding cut from Post-Secondary Education Infrastructure Projects
$205.4 million in Federal Government funding cut from Ontario to reduce wait times for essential health care procedures
$156 million in Federal Government funding cut from Ontario to hire front-line police officers
$117 million in Federal Government funding cut from Ontario for HPV immunizations
Withdrawing from the 2005 Early Learning and Child Care Agreement supporting early learning and child care programs
Cancelling EnerGuide for Houses programs that provided homeowners grants to complete energy audits and energy efficiency improvements
The provincial government recognizes the importance of these services to Ontarians and so it has stepped up to fill these gaps and protect the high-quality programs and services the people of Ontario deserve.
Some examples include:
Ontario is moving ahead on its own made-in-Ontario pension plan because the federal government unilaterally ended discussions towards any agreement on enhancing the Canada Pension Plan
In 2013-14, Ontario plans to spend about $13 billion on infrastructure investments in the province.
Since 2010 Ontario has continued to provide an annual investment of $63.5 million to fill the funding gap for early learning and child care
Ontario government stepped in to provide funding for the Experimental Lakes Area (ELA) in Northern Ontario and undertook the repairs to the MS Chi-Cheemaun ferry service despite an agreement being in place, the federal government refused to undertake repairs
The province has been calling on the federal government to work collaboratively on key priorities in Ontario including:
Enhancing the CPP so Ontarians can retire with dignity and security
Supporting development in the Ring of Fire to help create jobs and strengthen the economy
Providing predictable long-term transit and affordable housing funding so Ontario can build modern transit systems and support the province's most vulnerable people
The provincial government has been providing funding to keep Sault Ste. Marie's economy moving forward as the province has recognized the importance of infrastructure investment in creating new jobs.
Since 2003, Sault Ste. Marie has benefited from provincial infrastructure projects including:
$408 million new Sault Area Hospital
$130 million in five new school infrastructure projects
$78 million in Northern Ontario Heritage Fund Corporation funding for 756 projects
$16.3 million for Sault College new Academic building, Health and Wellness Centre and Link
$10.3 million for Algoma University Bio-Science Centre
$9.3 million new Algoma Public Health Building
$7.8 million for Donald Doucet Youth Centre
$6.2 million West End Community Centre
$5.6 million for OPP Forensic Lab
$5 million for Agawa Canyon Tour Train
$4.7 million for Essar Centre
$3.1 million Hub Trail and Waterfront Walkway
$2.8 million Algoma Regional Community Hospice (ARCH)
$2.2 million new Emergency Medical Services (EMS) Centre
Protecting critical programs and services is part of the Ontario government's plan to invest in people, build modern infrastructure and support a dynamic and innovative business climate.
*************************