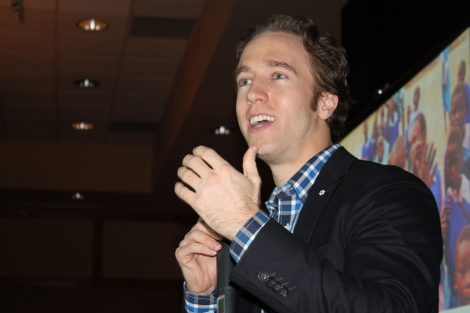 There is still much to be done in the fight against poverty and social injustice around the world, but well-known Canadian activist, co-founder of Free the Children and Me to We Craig Kielburger (pictured) says progress is being made.
"There are pockets of poverty and injustice and violence, but overall, in things like human trafficking, we are winning the battle," Kielburger told SooToday.com
"When you look across the board I don't think the numbers lie, the infant mortality rate in our world is plummeting, the maternal mortality rate is decreasing, the number of children in schools is increasing, the number of child labourers is decreasing."
Kielburger estimated that at one time there were approximately 250 million child labourers around the world, with that number now standing at approximately 200 million.
"That's a slow decline, but it's 50 million more lives that have been improved," Kielburger said.
Kielburger has played a huge, inspiring part in improving the quality of life for many people around the world.
Kielburger, who addressed a large audience at Algoma's Water Tower Inn & Suites Friday, began a crusade against child labour in poor countries with a group of schoolmates when he was 12 years old, in 1995.
That group grew dramatically over the years and became known as Free the Children.
More than 1.7 million young people are involved in Free the Children, which has operated in 45 countries around the world, dedicated to improving living conditions for many.
Free the Children is currently focussing its efforts in Ecuador, Ghana, Haiti, India, Kenya, Nicaragua, rural China and Sierra Leone.
Through fundraisers held by young people, Free the Children builds schools and works to ensure health care, sanitation, food security, clean water and income programs in those countries.
More than 650 schools have been built by Free the Children, providing education to more than 55,000 children every day.
Kielburger also co-founded Me to We, a social enterprise which helps finance Free the Children's efforts.
Through Me to We, women in poor countries, for example, make clothing and jewellery products which are then sold, with 50 percent of the funds raised going straight back to Free the Children's projects around the world.
We Day celebrations pack stadiums around the world every year with young people inspired to get involved with Free the Children fundraisers and projects.
Kielburger visited Sault Ste. Marie as one of two judges in the eighth annual Northern Ontario Business Case Competition, hosted by Algoma University.
Million Dollar Neighbourhood host Preet Banerjee was the other judge in the two-day competition.
In his speech Friday, Kielburger urged business administration students to contribute their expertise to projects in the non-profit world.
Teams from Algoma University placed first and third in this year's competition, with a Lakehead University team placing second.
Kielburger is an inspiration for teacher Anick Champagne-Hickey and her students from the Huron-Superior Catholic District School Board's St. Mary's French Immersion School.
Champagne-Hickey said her students, currently studying poverty and social justice issues, are looking at several fundraising ideas to raise money for a Free the Children school in Kenya.
"They're working on a business plan and will choose, as a class, what the best fundraising idea will be."
Kielburger said he was "thrilled" to see their enthusiasm.
"I think it speaks to what a wonderful, caring community this is."