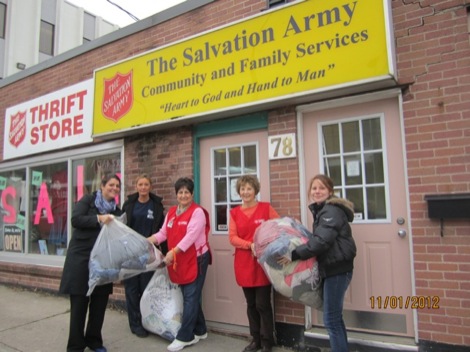 NEWS RELEASE

WINMAR

**************************
Local family partners with Winmar to kick off season of giving

SAULT STE. MARIE - A local family is already giving back after a traumatic fire by donating contents to the Salvation Army, cleaned in cooperation with restoration company, Winmar Sault Ste. Marie.

The Giardino family consisting of Angelo, Gail and their two children decided to give back, after losing almost everything in a house fire.

"We would like to turn the tragedy of our house fire into a positive," says Angelo. "We're more than happy to pass these items on to the less fortunate through the Salvation Army and make the lives of some others, a little more comfortable."

The Giardino's contents were cleaned through Winmar Sault Ste. Marie's Esporta and Fireline Systems.

The family was then asked if they'd like to donate any contents to the Salvation Army, sign a waiver and the contents get donated to the Salvation Army Thrift Store at 78 Elgin Street in Sault Ste. Marie.

"Winmar has been partnering with the Salvation Army for over 10 years. Donations are made not only locally in Sault Ste. Marie, but from Winmar franchises across Canada," commented Debby Matz, Winmar's manager of corporate communications. "Each Winmar franchise is involved with some aspect with their own local chapter. We are pleased to partner with an organization that helps so many people across the country."

Captain Shellie Kirschman of the Sault Ste. Marie Salvation Army is more than happy to accept the donations made by the Giardino's and cleaned by Winmar Sault Ste. Marie.

"There are so many reasons why the Salvation Army Thrift Store appreciates the donations the public gives us. One being that our land fills see less, another is that we provide a less costly alternative to people trying to cloth families, and furnish homes. The end result is that we are able to offer employment, emergency provisions, and provide funds to run one of our many programs that assist our community. Sault Ste Marie has been so generous, thank you all for doing your part to help us help others," she adds.

Winmar Sault Ste. Marie will be making more donations to the Salvation Army and encourages the public to do the same.

"It's a great time to encourage giving to those in need. Especially since the holiday season is approaching and people are in need of the basic necessities," said Dino Biasucci, manager of operations at Winmar Sault Ste. Marie. "It's a great feeling when we can clean and restore contents for a family that has gone through a traumatic experience such as the Giardino's in our Esporta and Fireline Systems. But even more amazing when they make the decision to donate some of those contents to an organization that helps the local community."

About Salvation Army

The Salvation Army is an international Christian organization that began its work in Canada in 1882 and has grown to become the largest non-governmental direct provider of social services in the country.

The Salvation Army gives hope and support to vulnerable people today and everyday in 400 communities across Canada and more than 120 countries around the world.

The Salvation Army offers practical assistance for children and families, often tending to the basic necessities of life, provides shelter for homeless people and rehabilitation for people who have lost control of their lives to an addiction.

When you give to The Salvation Army, you are investing in the future of marginalized and overlooked people in your community.

As the largest non-governmental direct provider of social services in Canada, The Salvation Army provides unprecedented support to society's most vulnerable.

1. Social and community service programs focus on nurturing the capacities, skills and strengths of individuals rather than just meeting their needs.

2. With the public's generosity, in 2010 in Canada:
The Salvation Army provided 6,350 shelter, addictions, detox and mental health beds for vulnerable men, women and families in Canada.
The Salvation Army served 2.7 million meals.
The Salvation Army assisted 1,152,700 persons with food, clothing or practical assistance.
About Winmar Sault Ste. Marie

Founded in 2008, Winmar Sault Ste. Marie is part of Winmar, a nation-wide franchise network of leading Property Restoration Specialists servicing insurance companies, property companies, property management companies, and corporations since 1977.

It includes but isn't limited to, damages caused by fire and smoke, water, flood and ice, wind, mould and asbestos.

24-hour emergency services include an on-call project manager and team of qualified technicians available any time disaster strikes, 365 days a year.

Father and son owners, Amato and Dino have over 60 years of combined experience in construction and restoration services.

The company specializes in emergency and reconstruction services for various types of disasters.

Their priority is helping homeowners get back into their homes after a disaster as quickly and with the highest quality of workmanship and customer service possible.

**************************
Pictured: (L-R) Winmar SSM's Marketing Rep Crystal Eusepi, Contents Manager Holli Wierzbicki, The Salvation Army's Dianna Patryluk and Elvira Bloye and Winmar SSM's Contents Technician Ashley Lacasse handing over donations on behalf of the Giardino family and Winmar SSM at the Salvation Army of Sault Ste. Marie's Thrift Store at 78 Elgin Street.