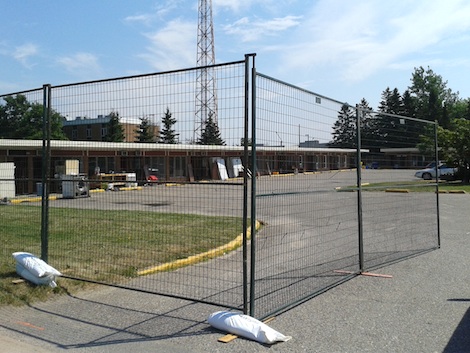 The Villa Inn Motel - a highly successful Great Northern Road hospitality outlet for 45 years - closed its doors yesterday.

On-site work is now underway to ready the structure for demolition en route to construction of a successor scheduled to open in the late spring or early summer of 2014.

Built by Bernie Klein in 1968, the family-owned Villa Inn Motel was a popular stop over the decades for many families travelling across the country and business representatives making sales calls in the city.
The Villa Inn also provided convenient accommodation for construction crews working in the area.
In 1982 the property was purchased by the Wurdemann family and was operated year-round until the official closing on Monday, July 15, 2013.
The family has made a huge impact on the hospitality industry locally by opening two of the city's three newly built hotels in recent years.
The family also operates the Super 8, the Holiday Motel and the Northlander Motel.
Following demolition, construction will start on a three-story Microtel Inn & Suites facility by the Wyndham Franchise.
The project represents an expansion of the Coulter Motel Limited brand in Sault Ste. Marie and will create new employment opportunities locally.
The Wurdemanns have always been a huge supporter of local youth who show passion for the industry and will continue to seek talented individuals who are hungry to learn and grow with the company.
The family invites the public to stop into the Villa Inn Motel site at 724 Great Northern Road for a big contents sale running 9 a.m. to 3 p.m. daily from today through to and including Saturday, July 20.
Everything must go - lamps, fridges, A/C units, bed sets, bedding and much more are available at great prices, an e-mail to SooToday.com reports.
Please direct any questions to Kyle Schneider, general manager or Gary Rooley, sales director, at 705- 254-6441.