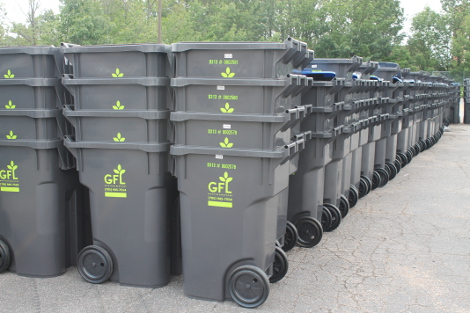 They're grey and blue with wheels, and one will soon be coming to the end of your driveway.
Green For Life Environmental (GFL) started delivering new recycling bins to Sault Ste. Marie residences Monday.
GFL (formerly Green Circle Environmental) ordered 26,000 of the bins and hopes to have them all delivered to Sault Ste. Marie homes by August 31.
GFL management told SooToday.com residents may keep their old blue and yellow boxes for storage, or feel free to drop them off at their facility at 86 Sackville Road.
GFL emphasized blue and yellow boxes filled with material will no longer be accepted at curbside once you have received your new bin.
The cost to GFL for the 26,000 bins, along with new, bright green collection trucks with automated arms was about $3 million, GFL Health and Safety Supervisor Randy Roy told us.
The bins were purchased from IPL Inc., a Saint-Damien, Quebec company that manufactures a wide range of molded plastic containers.
The bins are divided into two halves, with each half clearly labeled with instructions as to what types of material go into which half.
Roy told us: "We found the blue and yellow boxes were too small and people were still throwing a lot of material in the garbage, so this gives people a lot more space for material and preserves the life of the City landfill."
The life expectancy of the City of Sault Ste. Marie's landfill is currently estimated to be another eight years.
GFL has a 10-year contract with the City of Sault Ste. Marie for collection of recyclable material.
How easy will the bins be for seniors to handle?
"These are lighter and easy to navigate. Once you get them tipped back they're easy to maneouvre," Roy said. "Seniors can now just tip the bin back and roll it. We know it's going to be easier to get to the curb."
What if you miss a collection day (especially if, during the winter months, you wake up to find your driveway buried in snow and can't wheel your bin to the curb)?
While urging people to make an effort to leave the bins out for collection when they are half full, Roy said: "The bins are big enough so that you don't have to put it out every week, so if you miss a week because of bad weather it's not going to create any big issues."
"You can put your bin out the following week," Roy said, adding seniors who live alone might use the bins once every three or four weeks.
The new, wheeled containers will be a benefit to GFL workers, Roy said.
"The guys lifting the blue and yellow boxes were doing 2400 to 3000 rotations every day lifting the boxes up and over."
"It was becoming an issue with injuries to shoulders as well as back and knee injuries."
The new GFL collection trucks with their automated arms should solve those problems, Roy told us.
"Except for bundled cardboard, the drivers won't have to leave the trucks."
Residents should keep one important thing in mind.
Roy said: "We need enough space at the curb."
"A bin can't be near parked cars, telephone poles or overhanging trees."
"We need at least three feet on each side of it. That's important to remember," Roy told us.