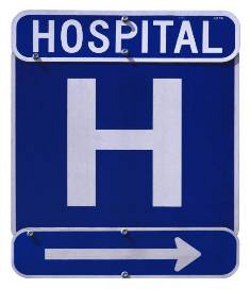 SooToday.com has received the following open letter from a loyal reader who has some concerns about the Sault Area Hospital's recently announced surplus.
*************************
The SAH has a surplus of over 1 million dollars and are asking the staff and public what to do with it?
Let's back up a bit and ask how they came up with this surplus.
The New SAH is a 289 bed, 408 million dollar venture.
They are currently running somewhere around 230 beds counting cribs, and depending who you ask.
Getting a straight answer from anyone at the hospital is like trying to break into Fort Knox or getting a straight answer from our Liberal MPP David Orazietti!!!
While they talk about surplus they never tell the public at least officially that they never opened a whole floor when the hospital first opened.
So it begs the question, are we funded for a 289 bed hospital or not?
If so, its not hard to figure out where the surplus came from, but who knows for sure.
Hospital funds seem to be top secret even if its our tax dollars.
Next question?
The Crillion company, who financed, built and runs most, if not all the Support Services, how are they paid is that one of the reasons we have a surplus of money, again good luck finding the answers.
So, Senior staff shouldn't break their arms trying to pat themselves on the back, while poor seniors lay in emerg for hours, even days, waiting for a bed or get discharged too early because the hospital is tying to make themselves look good.
To who? I'm thinking it's the LHIN's.
Now there's a waste of health care dollars.
The Liberal Bureaucracy at work again.
And last but not least I hope the CEO's salary reflects his responsibility since Crillion is in charge of most everything in the building except patient services.
We shall see just how responsible the Hospital Board is, when the Hundred Thousand Dollar Club comes out.
David Harasymiw
Local Health Coalition
*************************
D​isclaimer: The content supplied by readers as "Letters to the Editor" on SooToday.com does not in any way, shape or form, implied or otherwise, necessarily express or suggest endorsement or support of any of such content, statement, or opinions therein. SooToday.com does not necessarily adhere to or endorse content provided by outside non-staff sources.