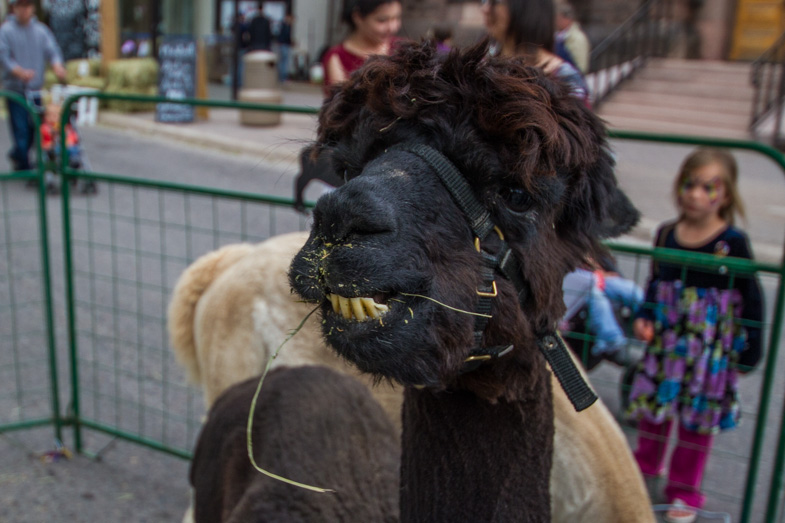 This happy little alpaca from Meadowview Farm was pleased as punch to eat Algoma Saturday afternoon.

At least the delicious hay he was provided to munch on.

He and his companion were a very popular part of the first-ever Eat Algoma Local Food Festival on Queen Street this past weekend.

Presented by the Rural Agri-Innovation Network (RAIN), the event was a celebration of our local farm and food community as visitors browsed local produce, enjoyed a variety of children's activities and live music, and put their tastebuds to the test in the Restaurant Food Challenge Competition.

The large market area of the festival featured a variety of local organizations, including Johnson Farmers' Market, Algoma Farmers' market, Mill Market, Urban Bee Keeping, the Community Garden Network, and the Algoma Food Network.

Live entertainment for the day was provided by Tiller, the Case's Music Girls' Ensemble, and the Scoville Unit.

For the Food Challenge portion, three Algoma farms were paired with three Sault Ste. Marie restaurants, tasked with creating the perfect pulled pork slider as judged by eager Eat Algoma attendees.

Valleyfield Farm provided the pork for Embers Grill and Smokehouse, the Gnarly Bistro was paired with Desbarats Country Produce, and Collholm Farm teamed up with Slow & Slow.

When all was done, tasted and judged, it was the fine folks at Low & Slow that took home the Golden Pig Award for their porky creation.