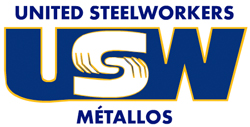 USW Local 2724 members voted in favour of accepting Essar Steel Algoma Inc's contract offer today.
At first blush the contract looks like a straightforward and pretty much standard agreement but there is one significant difference.
The contract is valid for 20 months.
"Historically we have negotiated three-year contracts," said Dale. "But the company is in a less-than-favourable financial position right now and we looked to help out," says USW Local 2724 President Lisa Dale.
She says USW Local 2724 members hope the company will be in a better financial position in 20 months when it's time to return to the bargaining table.
The settlement includes a modest wage increase and some more benefits for the retirees among other items.
Membership support for the contract offered was significant says Dale.
"We were very impressed with voter turnout."
The contract was ratified with 75 percent of the membership in favour of accepting it.
"USW Local 2724 Executive and negotiating team would like to thank the membership for showing their support," she added.
The full text of a news release from Essar Steel Algoma Inc. follows:
*************************
Statement from Essar Steel Algoma Inc.
Company and USW Local 2724 ratify collective agreement
SAULT STE MARIE - Essar Steel Algoma Inc. announced today the Company and USW Local 2724, the union representing the company's technical, professional and front line management employees, have ratified a collective agreement.
Members of Local 2724 voted today in favour of the new agreement which comes into effect August 1, 2014 for a twenty-month term.
This early agreement recognizes the immediate need to stabilize operations after an extreme winter, maintain focus on the timely delivery of quality steel products and maximize production.
Chief Executive Officer Kalyan Ghosh commented on the vote, "Every member of the Essar team is highly attuned to the needs of our customers. Now that we have returned to profitable operations, this agreement demonstrates our collective focus to sustain an optimal run rate at this critical juncture in our business cycle."
About Essar Steel Algoma Inc.
Essar Steel Algoma Inc. is based in Sault Ste. Marie, Ontario. As a fully integrated steel producer, the Company derives its revenues primarily from the manufacture and sale of hot and cold rolled steel products including sheet and plate.
*************************