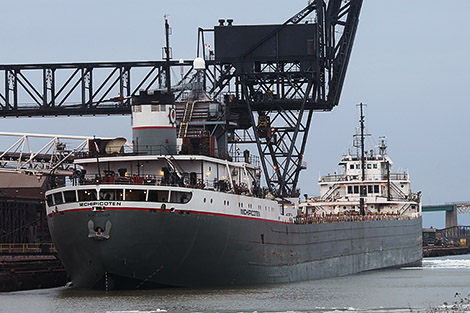 Essar Steel Algoma received its first shipment of iron ore pellets of the 2014 shipping season this morning as shipping times on Lake Superior continue to slowly improve.
Mark Gill, director of vessel traffic services for the US Coast Guard, said icebreakers are now leading eight-ship convoys, up from five-ship convoys used as recently as last week, speeding up shipping times.
The icebreakers are able to convoy more ships simultaneously as the ice becomes less of a factor, said Gill.

The Michipicoten, a freighter carrying approximately 20,000 tons of iron ore, arrived at the Essar Steel Algoma slip around 2 a.m. Tuesday and began a six-hour offloading process.

Although Essar Steel Algoma has been receiving shipments of coal by freighter, this is the first shipment of iron ore by freighter for the shipping season, said Brenda Stenta, manager of corporate communications for the company.

Essar Steel Algoma expected the freighter to arrive Sunday night, but heavy winds near Marquette, Michigan slowed its departure, said Gill.

"We stockpile iron ore for the winter season, and we continue to receive iron ore via rail however with the prolonged delay in the resumption of regular spring shipments we have had to match production to available raw materials," said Stenta.

One loaded freighter carries the same amount of ore as about 190 rail cars, said Stenta.

"Now that regular shipments have resumed we will return to normal production levels," said Stenta.
Just over half of Lake Superior remains covered in ice as of the most recent data from the Great Lake Environmental Research Laboratory.
(PHOTO: The Michipicoten offloads iron ore pellets at the Essar Steel Algoma slip on April 29, 2014. SooToday.com/Kenneth Armstrong)
*************************
Earlier SooToday.com coverage of this story:
River awash in wating ships as ice slowly melts
Thick ice keeps freighters backed up for miles