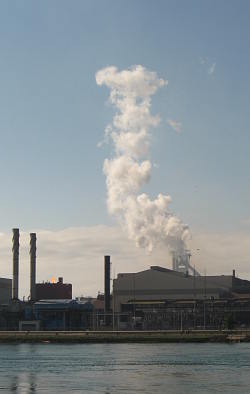 Essar Steel Algoma acknowledges it is struggling with some cash flow problems caused by the slow recovery of the steel market because of the worldwide economic recession, and other factors.
"Fiscal [year] 2014 has been a tough year. The Company continues to prioritize and make payment to suppliers, granted, not at a rate that they or we would want. We are looking to improve upon our terms as soon as refinancing can be secured," said Brenda Stenta, manager of corporate communications, in an e-mail.
Stenta cited several challenges facing Essar including: a decline in prices and demand for steel in North America; poor off-market terms in raw material supply contracts that have placed Essar at a $70 per tonne disadvantage in fiscal year 2013; historically low interest rates that escalated pension solvency requirements; and increased borrowing costs.
"The situation was compounded last quarter by the early onset of winter and severe weather conditions which hampered inbound raw materials and production, and resulted in a significant reduction in steel shipments," she said.
Nevertheless, Stenta wrote, much progress has been made to address these challenges.
She said the funding relief for Essar's defined pension plans approved by its employees in December had "provided for greater predictability and more sustainable payment terms".
Stenta noted also that Essar has begun to see improvements from its new iron ore contract with Cliffs Natural Resources "which will improve our cost per tonne by upwards of $40".
She said too that there were positive indications that the market demand for its steel products and prices would climb in 2014.
Stenta said Essar also was pursuing refinancing options to increase its cash flow liquidity, and reduce its interest expenses.