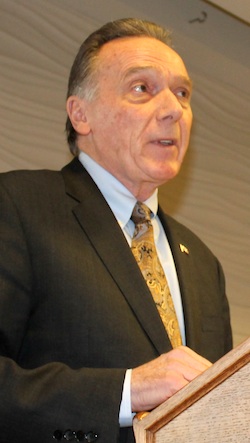 Federal Environment Minister Peter Kent was in Sault Ste. Marie this afternoon to speak at a Rotary luncheon at the Marconi Club.

Sault MP Bryan Hayes introduced Kent [shown] at the luncheon.

Kent was in Sault Ste. Marie as part of a nationwide tour, discussing the Harper government's environmental policies and gathering input from the private sector, scientists and the public to address concerns over climate change and clean water issues, including those affecting the Great Lakes Region.
Addressing problems affecting the Great Lakes, Kent said not only water quality but water quantity is a concern.

"We (the federal government) are working to address low water levels, the lowest in 35 years," Kent said, pointing out low water levels are especially low in the Georgian Bay area and extend all the way to the St. Lawrence River, but acknowledged it is a huge concern in the upper Great Lakes of Superior and Huron, as well as the St. Mary's River.
Kent noted the effect low water levels are having on shipping, saying commercial vessels are having to "light load" in order to make their way through the Lakes.

Putting the blame for low water levels on climate change, Kent conceded "there are no easy answers" to deal with the problem, affecting shipping, fishing and recreational use of the Great Lakes system, which generates billions of dollars in GDP annually.

Kent told SooToday.com: "One very expensive alternative would be to change the design of vessels using the Great Lakes in more shallow waters, but that would be a very expensive accommodation by shipping companies. We look forward to a report and recommendations from the IGAC (International Global Atmospheric Chemistry) … the answers will not be easy. There will be some proposals that will cost significant amounts of money."

Turning to another issue with a massive environmental component, Kent referred to the grassroots Idle No More movement, which claims the federal government's omnibus Bill C-45 budget legislation opens the door too easily and too wide to private sector development projects that would do serious harm to both Native and non-Native lands and waterways.

Kent said: "Idle No More has a spectrum of messages and issues and my department certainly deals with First Nations in a variety of ways in regard to environmental assessments and hearings. Assembly of First Nations Grand Chief Atleo has engaged with the Prime Minister recently and together they have set a number of priorities involving the treaties and resolutions."

Kent continued by saying there are many misconceptions concerning changes to the Navigable Waters Protection Act which are included in Bill C-45.

"There are environmental standards for fish habitat that will continue to be rigorously enforced by my department and other departments. Changes to the Act were in response to communities across the country on navigation issues and environmental assessments which were unnecessary and delayed significant projects."

Kent also commented on renewable energy, as Sault Ste. Marie continues to boast of a myriad of renewable energy projects in and around the community.

Noting that he was impressed by the aerial view of the solar farm as his plane flew in from Toronto Tuesday, Kent said, "Renewable energy is magnificent.

"It has become more cost effective in recent years, and our government continues to encourage it across the spectrum, including solar power and wind power. These technologies can contribute to reducing the carbon footprint but in the end carbon fuels are going to be with us for decades to come. Our challenge is, through regulation, to ensure they burn as cleanly as possible."

Apart from Tuesday's luncheon and speech, Kent said he was scheduled to also meet with local business leaders and obtain advice and suggestions from them in advance of the next federal budget.