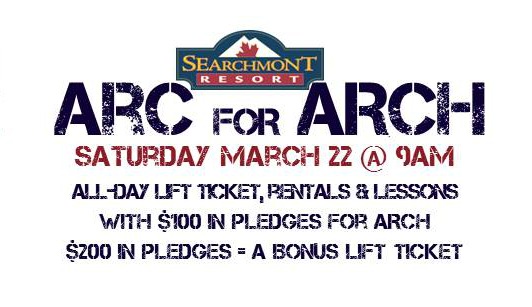 NEWS RELEASE
SEARCHMONT RESORT
AND ARCH
*************************
Searchmont invites skiers and snowboarders of all ages and ability levels to the ARC for ARCH Hospice fundraising event on Saturday March 22.
An ARC is the shape made in the snow when making turns on a ski or snowboard.
Event participants can enjoy the great outdoors while supporting a great cause!

With $100 collected in pledges for ARCH Hospice, participants receive an all-day lift ticket, rental equipment and a group lesson.
Those that collect $200 in pledges will receive a bonus lift ticket that can be used on another day this season or next.
The top 3 fundraisers will each receive a 6-pack of lift tickets for the 2014-2015 season.

The event will also feature live music (The Steelton Playboys), a Rail Jam presented by SAFA with proceeds to ARCH Hospice, and more.

To qualify for the Arc for ARCH event or prizes, register by March 20 by calling Lee Skinner at ARCH Hospice 705 942-1556 ext. 222 or by emailing skinnerl@archhospice.ca.
Day of registrations and donations towards ARCH Hospice will also be welcomed.

Registration for the SAFA Rail Jam will take place at Searchmont on Saturday between 10 a.m. and noon.

About ARCH Hospice
Algoma Residential Community Hospice (ARCH) provides palliative, end-of-life care to Algoma residents and their families.
ARCH is committed to the belief that life is meant to be lived fully with dignity and comfort to the end.
Dedicated staff, volunteers, and community partners provide compassionate care to meet the physical, emotional, social, and spiritual needs of those we are privileged to serve.
ARCH is partially government funded, requiring $750,000 annually in external funding, as well as the generosity of nearly two hundred dedicated staff and volunteer members to provide its services to the community.
Please visit www.archhospice.ca or call 705-942-1556 to learn more.
*************************