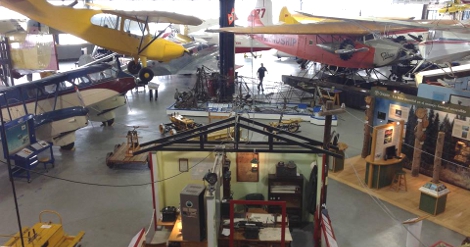 NEWS RELEASE
CANADIAN BUSHPLANE HERITAGE CENTRE

*************************
The Canadian Bushplane Heritage Centre is one of only four museums in Ontario that has been selected by the Ontario Museum Association to implement the innovative Engaging Your Community Toolkit.
The goal of using the toolkit is twofold:
to measure the current level of community engagement the bushplane centre has achieved and;
to determine community needs that the bushplane centre could focus on with future programs and services.
Thanks to funding from the Ontario Trillium Foundation, the Ontario Museum Association will send experts to Sault Ste Marie to facilitate the implementation of the Community Engagement Toolkit which consist of:
Self-assessment by staff and volunteers of the current level of community engagement the bushplane centre has already achieved;
Community consultation of the current level of community engagement and input about community needs the that bushplane centre could develop programs and services to meet;
Action planning to identify the steps and resources required to meet future needs.
"The Ontario Museum Association is pleased to work with the Canadian Bushplane Heritage Centre to pilot the Engaging Your Community toolkit" said Marie Lalonde, Executive Director of the Ontario Museum Association. "As an independent museum with such a unique collection and dynamic programming, we look forward to facilitating and documenting the bushplane centre's experience for the benefit of the centre and the residents of Sault Ste Marie, and as an example to share with the Ontario museum community."
The selection of the bushplane centre is a timely and crucial step in planning for the future of the bushplane centre stated Mike Delfre, Executive Director.
The centre is constantly evolving to try to reach a level of sustainability that will allow us to offer residents and visitors a world class education and cultural experience.
The downtown is evolving too with more residents living in condos and apartments who are looking for fun things to do for themselves and their families.
We have to be relevant to their needs and increasing our level of community engagement will help us do this.
Dr. Ron Common, CBHC President stated that the bushplane centre has become a major education and training venue with over 3,000 school visits annually and by hosting the White Pines Field School and the innovative Ontario Works Building Maintenance and Construction Training program.
Common noted the increasing efforts to form partnerships as an example of ways the bushplane centre engages the community.
The action plan that will result from the implementation of the Engaging Your Community Toolkit will be provided as a public document in the new year.
Anyone who is interested in participating in the community consultation meeting is invited to contact the bushplane centre.

*************************