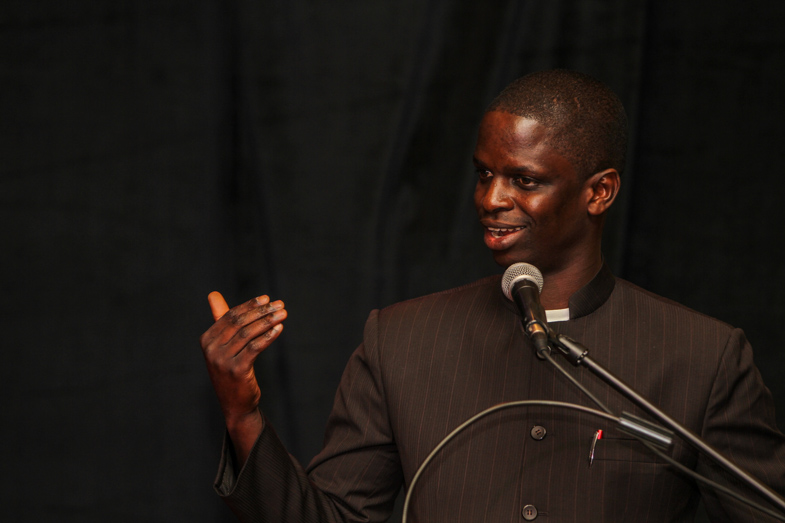 Leo Johnson (pictured) delivered an inspiring keynote address last evening during the Passport to Unity opening night celebration at the Water Tower Inn Pavilion.

The founder of Empowerment Squared - a Hamilton-based charity that offers academic mentoring, leadership development, and sports and recreation opportunities to youth - spearheaded the Liberian Learning Centre Project.

As a government-sponsored refugee now living in Canada, Johnson's campaign aims to construct the first library and resource centre in Liberia.
A portion of last night's ticket sales went to support this cause.

The opening celebration also saw the presentation of Sault Ste. Marie's first Community Driven awards, an initiative of Great lakes Honda.

Awards were presented in four categories:
Volunteer - Dorothy McKay
Post-Secondary - Caitlyn Nelson
Leadership - Teddy Syrette
High School - Jackson Reed
The evening closed with a performance from the Maria Osende Flamenco Co. from Halifax, Nova Scotia.

Passport to Unity continues today with free dance workshops (Flamenco at 1 p.m., Latin at 2:30 p.m.), the Canadian Museum of Immigration at Pier 21 presentation at 2 p.m., and a meet-and-greet session with A Tribe Called Red at 2 p.m.

A Tribe Called Red will close the day's festivities with a performance at the Sault College Health and Wellness Centre at 8 p.m.

For more information about Passport to Unity, please click here