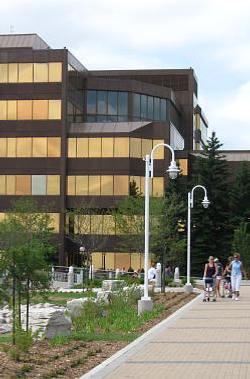 City council, in an emotional discussion at its regular meeting Monday, approved an application to develop three new single residential lots, fronted on Summit Avenue, on the north side of Ontario Avenue.
The proposed development, from applicant Graham Simmons, required approval from council to reclassify the area in question from 'estate residential zone' to 'single detached residential zone,' and ensure that engineering measures be taken to prevent erosion and flooding from the sloped area.
The slope of the property and resulting erosion and heavy flooding in past, heavy rains are of great concern to Ontario Avenue residents.
Ontario Avenue residents Don Pistor and Mike O'Shea were present at council's meeting Monday and spoke in opposition to the proposal.
O'Shea presented a videotape clearly showing very heavy runoff from the slope, with water and debris rushing along the road in front of his home.
Pistor said council, if it approved the project, would be making an "ad hoc" adjustment to the city's Official Plan for the sake of approving one particular project, and would require Ontario Avenue residents to have "a lot of faith" in adjustments to the property that haven't been made yet.
"This will negate regulations concerning slopelands," Pistor said.
Marlene Yanni, another Ontario Avenue resident, said "all I've heard (from city engineering staff) is 'we think, we hope, we can't guarantee.'"
"I'm imploring this council 'don't let us down'…let's have some more study on this situation," Yanni said.
"It's not only water from flooding, its mud, it's debris, and someone is going to get hurt."
Susan Myers, Ward Two councillor, asked Don McConnell, city planning director, if he could guarantee engineering measures to be put in place will ensure no further damage would occur.
McConnell replied he could not guarantee that and said "at worst, it won't get worse if (this proposal) is approved…but there's an opportunity here to make the situation better, not worse (by taking certain engineering measures)."
A tearful Myers told council "unless you've seen it (the flooding and damage on Ontario Avenue), you can't believe it…I'm asking council tonight 'please don't expose these people to more risks.'"
"Let's put a hold on this until we've dealt with all the issues."
Earlier council discussion of the matter at its May 12 meeting led to a defeated, 5-5 tie vote, but council agreed to reconsider the matter when Pat Mick, councillor for Ward Three, voiced concern she may have voted in error.
At council's May 12 meeting, concerned Ontario Avenue residents, who have submitted letters to council, told elected leaders because the previous owner of the property removed a great amount of vegetation on the site, heavy rains from last fall caused water to rush down the sloped property and flooded their homes, with mud and debris covering the road and clogging up catch basins.
They also insisted, in a letter, council ensure the developers and the city "install infrastructure or establish a new system that will correct the flooding caused by the runoff from Summit Avenue."
"We also expect that the current owners who desire this development will bear the cost of this system," the letter stated.
The applicant, meanwhile, had submitted a study done on the property by Tulloch Engineering in support of the application.
A report to council from the city planning director states the Tulloch Engineering study shows the existing slope to be stable and recommended approval of the development, on the condition that engineering measures be taken to ensure slope stability, prevent erosion and proper drainage.
"This will allow a series of checks throughout the process, to ensure that appropriate measures are in place both during and after construction," the report stated.
In a recorded vote, council voted eight to two in favour of the application.
Voting in favour were Mayor Debbie Amaroso and councillors Steve Butland, Marchy Bruni, Brian Watkins, Rick Niro, Paul Christian, Frank Fata and Pat Mick.
Councillors Myers and Joe Krmpotich voted against.
Councillor Terry Sheehan abstained from voting due to conflict of interest.
Councillors Lou Turco and Frank Manzo were absent.
"I'm sure councillor Myers will be following the process and ensure what must be done will be done (to prevent further damage to Ontario Avenue homes)," Mayor Amaroso said.