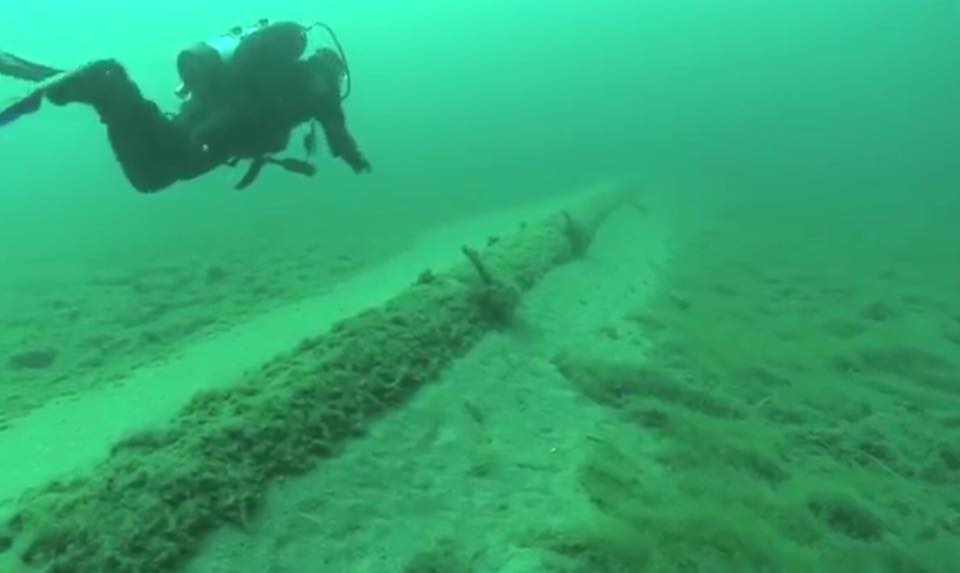 The U.S. National Wildlife Federation (NWF) today demanded emergency closure of a 62-year-old oil pipeline under the Straits of Mackinac.
Speaking at a news conference this morning at historic Trinity Episcopal Church on Mackinac Island, NWF National Board Chair Bruce Wallace called on the pipeline's owner, Calgary-based Enbridge Inc., to stop using it immediately.
Wallace made the demand as an independent panel of scientists and engineers released an expert report concluding that retiring Enbridge's Line 5 pipeline is the only option to prevent a catastrophic oil spill.
Line 5 is the U.S. section of what Enbridge says is the longest petroleum pipeline in the world.
It runs 645 miles from Superior, Wisconsin, to Sarnia, Ontario.
The pipe is 30 inches in diameter as it crosses Michigan.
At the Straits of Mackinac, it splits into two parallel 20-inch pipes for 4.6 miles under water.
"Line 5 has the capacity to transport up to 540,000 barrels per day of light crude oil, light synthetic crude, and natural gas liquids including propane," the company says on its website, Enbridge.com.
No leaks in 60 years
Enbridge claims an exemplary safety record in Mackinac.
"Our Line 5 Straits of Mackinac crossing has never experienced a leak in more than 60 years of operation - and we're working hard to keep it that way," the company says.
"While the likelihood of a leak in the straits is low, we're well aware of the environmental sensitivity of the area; we know the consequences would be significant."
"Line 5 remains in excellent condition, and that's a testament to Enbridge's industry-leading operations and monitoring programs - which use both human resources and cutting-edge technology, providing multiple layers of protection and comprehensive leak-detection capabilities."
A rather different picture was painted today by the National Wildlife Federation (NWF), the biggest private conservation nonprofit in the United States, claiming more than six million members and supporters.
"The National Wildlife Federation is unequivocally opposed to the continued use of this pipeline," Wallace told today's news conference.
He knows the straits area well.
For decades, Wallace has spent summers at a cabin overlooking Mackinac Island and the Mackinac Bridge - the longest suspension bridge between anchorages in the Western Hemisphere.
2010 spill on Kalamazoo River
After Enbridge's 2010 Kalamazoo River oil spill - the largest inland petroleum spill in U.S. history – NWF started to look for similar pipelines in the Great Lakes watershed.
Two years later, the group began to draw attention to the twin Enbridge pipes at the picturesque Straits of Mackinac.
Unable to access Enbridge's inspection reports, the group commissioned divers to conduct an independent inspection in 2013.
It found broken supports and unidentified debris covering pipes that Wallace described as looking "old and worn and at risk."
The oscillating water flow in the straits pushes water between Lake Michigan and Lake Huron on an alternating basis with a force greater than all the water that goes over Niagara Falls, Wallace said today.
"If a spill occurs, it's going to have devastating effects far beyond the straits themselves."
Wallace pointed out that it took Enbridge more than 20 hours to respond to its tragic Kalamazoo spill.
"Who knows how they'd respond here?" he asked. "Who knows how they could even respond if this occurs in the wintertime."
'Got to get the oil out from under the straits now'
"We don't see, in any of the evidence that we've reviewed, convincing reassurance that a spill or rupture or leak might not occur this week or this month or within this next year."
"We can't afford to keep talking about it while the product still flows. That's got to stop. Then we can talk. But we've got to get the oil out from under the straits now. This is an emergency and that's the action we demand," Wallace said.
Liz Kirkwood, executive director of Traverse City-based For Love of Water (FLOW), said that the engineers and hazardous materials risk management specialists retained by her group determined that Enbridge's underwater pipeline is archaic with no end-of-life plan.
"These pipelines rely on 1950s technology. The protective coatings they use are obsolete and the welds that connect each 40-foot segment are outdated," Kirkwood said.
"Six decades of powerful currents and shifting sands at the bottom of the Straits of Mackinac have caused friction that has accelerated pipeline wear."
Zebra mussel waste corrodes exposed steel
"The pipelines were constructed prior to the zebra mussel invasion of the Great Lakes and were not designed to withstand their corrosive impact."
Zebra mussels excrete an acidic waste that corrodes exposed steel, Kirkwood said.
The Mackinac pipeline is protected by a coal-tar enamel that has failed in other locations, including Enbridge's Line 2 in Odessa, Saskathchewan.
Line 2 was built in 1953, the same year that Line 5 was completed.
"Welds from 1953 are simply deficient both technically and due to deterioration over time," Kirkwood said.
"Of the Enbridge pipeline spills reported from 2002 to 2010, 16 pipeline spills were caused either by weld failures or from the failure of coal tar enamel coating similar to the coating used on Line 5 through the straits."
Missing structural supports
The State of Michigan required Enbridge to install structural supports along the pipeline at least every 75 feet to prevent it from grinding along the straits bottom and from bending or breaking at weld points, Kirkwood said.
She accused Enbridge of failing to install as many as 65 of the needed supports.
Kirkwood said that Enbridge's 1953 pipeline easement grants the State of Michigan authority to regulate the Mackinac pipes.
"We at FLOW insist that the state undertake a careful review, conduct a transparent process, and consider as paramount the public's interest in the Great Lakes," Kirkwood said.
Until then, FLOW maintains the pipeline should not be used.
Gary Street, former director of engineering, at Dow Environmental - AWD Technologies, said that the weight of millions of zebra mussels has added stress to the pipeline that it was not designed to handle.
Mussels also prevent proper inspection of a pipe's condition.
Worst possible place for an environmental disaster on the Great Lakes
Street is doubtful that Enbridge can quickly detect any pipeline leak and quickly activate shutoff valves in Mackinaw City and St. Ignace.
Even so, he says, each of the twin pipes contains 325,000 gallons of petroleum product.
"Where's it going to go? It's going to go into the straits."
"We think the pipelines are a disaster waiting to happen," Street said, citing a University of Michigan study that found the Straits of Mackinac are the worst possible place for an environmental disaster on the Great Lakes.
Also participating in today's news conference was David Holtz, chair of the Sierra Club's Michigan chapter.
The news conference took place as top Michigan political and business leaders are gathered at the annual Mackinac Island Policy Conference, and anti-Enbridge protesters disrupted a speech by Governor Rick Snyder.
Chris Shepler weighs in
In an article published in this week's edition of Crain's Detroit Business, Chris Shepler of Shepler's Mackinac Island Ferry called for the leaders to retire or decommission the aging pipeline.
Offered an opportunity to respond to today's news conference, Michael Barnes, senior manager for operations and project communications at Enbridge's Houston, Texas office, sent us the following: "At this time, we have not seen the report. Once we obtain a copy, we will carefully review it. Enbridge will continue to work openly with the government of Michigan on the safe and reliable operation of Line 5 and all of our pipelines in Michigan."
(PHOTO: Still from 2013 National Wildlife Federation video of Enbridge Inc.'s Line 5 pipeline under the environmentally sensitive Straits of Mackinac. Broken supports are visible.)