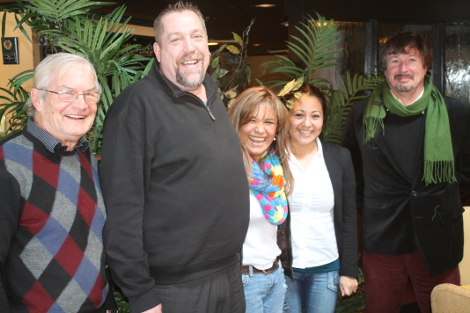 As we continue to shiver in this year's "spring," here's a chance for some of you to heat things up.
The Northern Ontario Hispanic Culture Association (NOHCA) of Sault Ste. Marie will be holding "Rumba Latina," a night of Latin music, dance, food and beverages at Docks Riverfront Grill at 89 Foster Drive Saturday March 29 from 7 p.m. to 2 a.m. in the restaurant's lounge section.
Pictured are NOHCA members James Schenell, Sandra Mongui, Bella Luz de Dios and Matt Zook with Docks General Manager Dave Brown (second from left).
The group gathered at Docks to speak to SooToday.com about Saturday's celebration.
There will be special Latin drinks, cocktails and food, and as for dance, there will be salsa, samba, merengue, cumbia, forro and more.
Docks General Manager Dave Brown said admission to the event is free, and that guests will have to pay only for food and drinks provided by Docks (nevertheless it will be worth every dollar, or in this case, every peso!).
"We're very excited to be hosting this event, and we're hoping we can hold this event a couple of times a year," Brown said.
"There'll be great Latino music and dancing and Latino food, there'll be draws for lots of prizes including a dinner for two at Docks."
There will be a free gift for the first 50 people who arrive for the festivities, Brown said.
"We're very honoured to host the event and we're really looking forward to Saturday night."
Sault Ste. Marie, Michigan's Matt Zook will be on hand to provide Latino and Caribbean music as the event's DJ.
Attendees are welcome to come in Latino or Caribbean costume if they desire.
"Sandra (Mongui) approached us about it, and we fell in love with the idea," Brown said.
It is hoped 150 people will attend, and as of mid-week, about 100 people have expressed interest though phone calls to Docks, emails and social media, Brown and Mongui said.
Mongui, a vivacious Sault resident who hails from Colombia, said many countries in Latin America, the Caribbean, Spain, Portugal and the Philippines (a former Spanish colony) will be represented.
However, Rumba Latina isn't for Hispanic people only.
Everyone is welcome to attend and take the opportunity to enjoy themselves and learn of Latin culture.
Bella Luz de Dios, originally from Mexico, said: "An important point of Rumba Latina is for non-Latin people to learn about our culture."
"We want to see Canadians get involved and learn about our culture, we want to give a sample of what we can bring to this community…we want people to have a taste."
"Come and enjoy and learn."
Mongui said Sault Ste. Marie's Local Immigration Partnership, as well as several local businesses (who have provided door prizes for Saturday's party) and Algoma University (with a strong international student population) have shown great support for the local Hispanic community.
There are about 80 members in the Sault branch of the Northern Ontario Hispanic Culture Association, Mongui said.
Matt Zook, a Sault Ste. Marie, Michigan resident who works for a tourism brochure distribution company, was born in Indiana and raised in Florida, where he first became attracted to Hispanic culture through living among the large Hispanic population there.
He has travelled widely throughout Mexico, Puerto Rico, South and Central America and, at one time, hosted a Spanish-language radio show.
James Schenell, a Sault Ste. Marie resident for the past 20 years, came to Canada from his native Germany and has travelled throughout the world, from Canada to Australia, but has a special love for Hispanic culture through his own travels in Latin America, particularly Ecuador.
Schenell said he is amazed by the love of music and dance in Ecuador.
"People dance on the buses," he said.
"When I go to Ecuador, I see little kids as young as three years old in little villages hear music and they start to dance."
"The air in Ecuador is so beautiful and clear, and I feel safer with the people in the villages there than I do in big cities," Schenell stated.
Among the strengths and qualities Hispanic people bring to Canada's multicultural society, Mongui said, "are very strong family values."
"We believe in being happy with the little things in life, Latin children are sometimes without shoes but they are smiling, dancing, so innocent."
Bella Luz de Dios said: "We embrace happiness, and dancing is part of us."
"When we dance we reflect happiness, and we are in balance with everything."
Zook said: "People will spend time to speak with each other and debate, but in a friendly way…people do that here, but there it's more widespread."
"A group of us would get together and discuss many things, and they have so much appreciation for the arts."
Schenell added that apart from creating catchy dance music and cooking up good food, Hispanic people know how to live life at a slower pace.
"Culturally, certainly they have a different outlook on life than North Americans...they're more relaxed."
"I think they enjoy life a lot better, in contrast to Europeans and North Americans."
"If you come on Saturday night, you'll see that."
For more information on Rumba Latina, email nohca2014@gmail.com or call Docks at 705 256 6868.