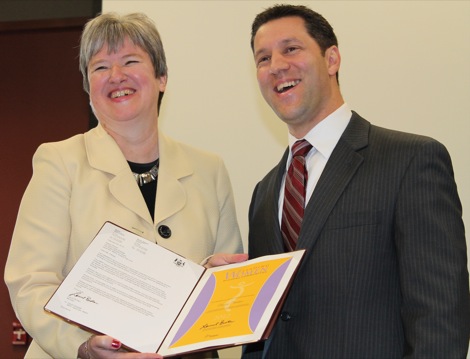 NEWS RELEASE
NORTH EAST LOCAL
HEALTH INTEGRATION NETWORK
*************************
New acting chair taking helm of North East LHIN board
(February 7, 2014) – After years of service, Elaine Pitcher has resigned as the Board Chair of the North East Local Health Integration Network (LHIN) for personal reasons.
Effective immediately, Danielle Bélanger-Corbin will be assuming the role of Acting Board Chair.
"While we are saddened to see Elaine move on, we would like to wish her all the best in her future endeavours," said Louise Paquette, CEO of the North East LHIN. "Danielle is a strong, dedicated advocate who is committed to advancing patient centred care across the region. She has been involved in numerous community engagement and governance sessions over the years and we are delighted that she has accepted the role of Acting Chair of our LHIN Board."
A resident of Haileybury, Danielle has served in the positions of Vice Chair and Chair of the LHIN's Audit and Governance Committees. She is currently in her second term as a Board Director.
"Advancing quality health care has been a prime focus of mine ever since my family and I moved to northeastern Ontario 14 years ago," said Danielle Bélanger-Corbin, Acting Board Chair of the NE LHIN. "I look forward to meeting the challenges that lie ahead and working with the NE LHIN's very capable staff and board as we seek to advance the objectives of our strategic plan."
Danielle is a decorated former Canadian Forces army logistics officer who played key leadership roles within the department of National Defence. She is a fluently bilingual Francophone who serves on various boards of not-for-profit organizations such as FrancoCiné, the Festival des Folies Franco-Funand the South Temiskaming Active Travel Organization.
She also currently handles financial and managerial accounting for a medical professional corporation in New Liskeard.
Danielle is very active in her community, volunteering with many athletic organizations, and is an ESL teacher and crisis responder with Temiskaming & District Victim Crisis Assistance & Referral Service (VCARS).
Quick facts
The North East LHIN is responsible for planning, coordinating and funding 148 health service providers in Northeastern Ontario including hospitals, long term care homes, mental health and addiction organizations, community support services, community health centres, and the NE CCAC. It oversees $1.4 billion in local health care investments on behalf of the 565,000 residents of Northeastern Ontario.
LHIN Directors are appointed by Order-In-Council for a term of up to three years, subject to a two-term maximum. The Board of Directors is accountable, through the Chair, to the Minister of Health and Long-Term Care for the LHIN's use of public funds and for its results in terms of goals and performance of the local health system.
Altogether the North East LHIN Board includes Chair Danielle Bélanger-Corbin as well as Board Directors Cecilia Bruno, Dr. Colin Germond, Santina Marasco and Rick Cooper.
*************************