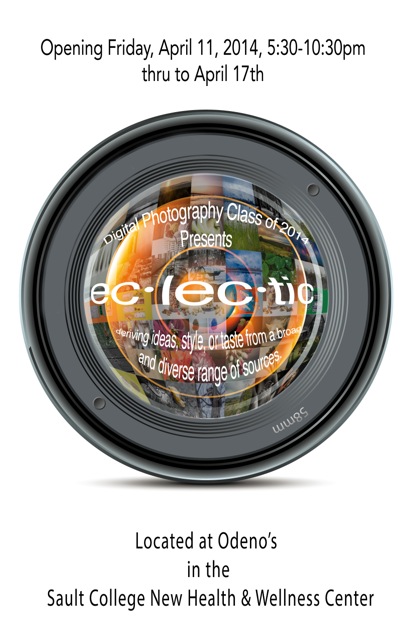 NEWS RELEASE
SAULT COLLEGE
*************************
Sault College Digital Photography graduates exhibition show to be eclectic
A diverse group of talent will emerge from Sault College's Digital Photography program this year.
The 2014 Sault College Digital Photography graduating class is holding their year-end photography exhibition.
The show titled Eclectic, means "deriving ideas, style, or taste from a broad and diverse range of sources" is the final collective assignment and assessment for the graduating class.
Opening night is Friday, April 11 from 5:30-10:30 p.m. and will be held at Odeno in the new Health and Wellness building on the Sault College Campus and will include appetizers.
Free admission and open to the public, Eclectic will run through to Thursday, April 17.
The Exhibition is solely funded through fundraising and donations, designed and created by the graduating class.
For most of the artists this will be the first time they show their work to public.
"We have worked incredibly hard over the past two years to perfect our craft. We are such a diverse group. It's only fitting that we went with Eclectic as the title for our show. It is our time to show the world what we can do and what we have worked so hard for." Jennifer Inglis is excited about the upcoming show.
Jennifer is one of the 11 students graduating from the program this spring.
The exhibition will remain on display and open to public any time after the opening night till April 17.
Eclectic will showcase the work from 11 graduating students, and will also have a glimpse of what is to come from the 2015 graduating class.
*************************