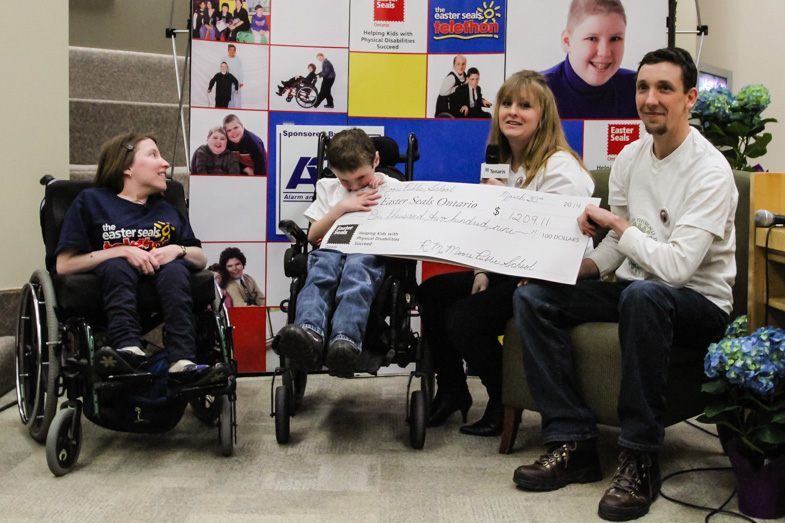 Just prior to 6 p.m. today, the 2014 Rotary Club of Sault Ste. Marie Easter Seals Telethon had raised $61,415 to provide aid to children with physical disabilities.

More than 60 children in our community benefit each year from the annual Telethon and other locally hosted Easter Seals events, including Snowarama and the Bon Soo Ball Hockey Tournament.

Lori Amendola, Easter Seals Telethon co-chair, told SooToday.com that this year's event is trending much like the 2013 telethon and associated activities which raised more than $136,000.

"We'd obviously like to match or exceed last year's total," she said. "All the other events we do, like Change for Change and the Bell Celebrity Skate, are intended to raise money for and awareness of the Telethon."

A number of area businesses and schools held events throughout the year to raise funds to donate during the Easter Seals Telethon, including Billy Byrnes-Adam's own school.

The 2014 Easter Seals Ambassador is pictured above with his parents presenting a cheque from RM Moore Public School for just over $1,200.

Billy's mother Ivy Farrell told us when she learned that he was chosen as the 2014 Ambassador, she was both honoured and overwhelmed.

"Easter Seals has helped keep us a family," she said. "If you need Easter Seals' help, don't be shy and don't be scared. Just reach out."

The organization has provided aid to Billy and his family in the form of funding for wheelchairs, a walker, the installation of a bathroom lift, and swimming lessons.

Although the telethon wraps today at 7 p.m., donors can continue to contribute to the local Easter Seals chapter by clicking here, or call 705-254-KIDS (5437) prior to 7 p.m.