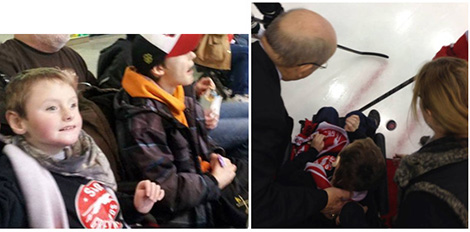 NEWS RELEASE
EASTER SEALS ONTARIO
*************************
SAULT STE. MARIE - Easter Seals Ambassador Billy "Dozer" Byrnes-Adam was centre ice last week in his public début as the 2014 Sault Ste. Marie local Ambassador as he dropped the puck in a pre-game ceremony at the Soo Greyhounds game.
It was a good day: the Hounds beat the Steelheads and the Rotary Battle of the Sections raised over $5,400 for Easter Seals Ontario and Rotary youth programs.
Billy's family is an average hockey-loving Sault Ste. Marie gang.
His Mom, Ivy, is a huge Vancouver Canucks fan, while Dad, Murray, cheers for the Calgary Flames.
Like any lively young Northern Ontario family, they love to go out fishing, hunting and four-wheeling in the summer.
One of Billy's favourite activities is to go swimming, but in the winter, they love to go snow machining, making Snowarama for Easter Seals Kids the perfect family outing.
A disability can be a tough barrier for any family, as Ivy explains: "Billy has cerebral palsy in a fairly severe form. He was diagnosed shortly before his first birthday. It stemmed from being born two months prematurely. He is non-verbal and can't walk or weight bear. He uses a walker as well as ankle braces. We are finding that as he gets older, his needs are becoming too much for our smaller healthcare facilities and we are forced to travel more for medical appointments. With two other kids, it's very challenging to afford the travel, time off of work, boarding and food while away."
Easter Seals' Ambassador program is one of the oldest and most recognizable Easter Seals programs.
Ambassadors are the face and voice of Easter Seals' cause: they represent all children, youth and young adults with physical disabilities in their community and work to promote the understanding of their abilities and achievements by speaking at fundraising and community events.
Each year, Easter Seals designates outstanding young people to represent children and youth with physical disabilities across Ontario.
Upcoming fundraising events include:
Snowarama For Easter Seals Kids - February 8, Enjoy a scenic snowmachine ride on some of The Sault Trailblazer's groomed trails and fundraise to help support Easter Seals kids. For more information please visit Snowarama.org or call (705) 945-1279
TD Change for Change in the Lives of Easter Seals Children - Formerly Penny Power for Easter Seals Kids, this program collects coins on behalf of children/youth with disabilities. The public can participate by dropping off their donation to any TD Canada Trust branch in Sault Ste. Marie until February 28. Change for Change roll day is Saturday, March 1st, 10 a.m. – 2 p.m. at Cambrian Mall
The Easter Seals Telethon - Sunday, March 30, noon - 7 p.m. on Shaw, cable channel 10
For more than 90 years, Easter Seals has played an important role in providing support for children and youth with physical disabilities from all ethnic and religious backgrounds.
Thanks to its generous donors, Easter Seals continues to offer programs to allow kids to experience freedom, independence and a sense of accomplishment.
Easter Seals helps by providing financial assistance for mobility equipment, communication devices and summer camp opportunities at its two properties, Camp Merrywood and Camp Woodeden.
The Rotary Club of Sault Ste. Marie has been assisting Easter Seals Ontario since 1923.
Together we make a difference for kids in the community who need our help.
For more information or to donate visit www.easterseals.org.
*************************