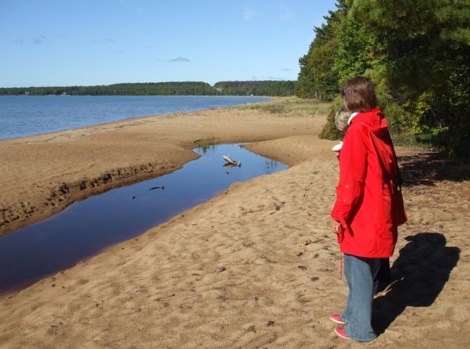 About 40 Batchawana Bay area residents, joined by Algoma-Manitoulin MPP Michael Mantha, went on what might be called a protest walk along the trail near the white-sand beach of Batchawana Bay Provincial Park Saturday morning.

As earlier reported by SooToday.com, Batchawana Bay Provincial Park was closed over the Labour Day weekend.

That's much earlier than the usual Thanksgiving closure in October, to the dismay of area residents who enjoy the beach and surrounding area, and business operators seeking tourists to come and eat, stay overnight and enjoy the beach in brilliant fall colours.

There was also a late opening for the Park this season, which usually opens over the Victoria Day weekend, but this year did not open until the first week of June.

The group gathered this morning outside the Park's gate, which is held together by a small chain near a "Closed" sign.

After signing a petition asking Minister of Natural Resources Michael Gravelle to officially reopen the park until Thanksgiving, and a First Nations drum ceremony, the group took their walk.

The gate is easy to walk around, the beach and trail easily accessible on foot, but visitors have to park their vehicles on the shoulders of Highway 17 instead of inside Batchawana's parking lot - a turn off for tourists.

Mantha told SooToday.com: "I'm here supporting the community, and I am requesting Minister Gravelle to reconsider the decision made here. This is a small community, and they need every possible venue to bring in tourism dollars, and this park is one of those venues beneficial to the economy of this area."

The MNR has said the closure of the park over Labour Day weekend was to avoid duplication of services, pointing out there are tourist stops 10 kilometres north and south of Batchawana Bay.

This year's opening and closing dates for Batchawana are clearly posted in MNR literature, but Mantha says those dates are unfair.

"The government has made a wrong decision, this park attracts business."

"Just up the road from here, less than a kilometre, there's a restaurant, a camping area, and the operators benefit from the tourists that stop here. So by saying there's a provincial park 10 kilometres down the road is the problem - its 10 whole kilometres away."

Retired secondary school teacher Bob Moore, who now lives year-round at Batchawana Bay, told SooToday.com: "This irks me and something has to be done. I started writing a lot of letters, through frustration."

"The message is all around us. The fall colour is coming out, this is a prime time for people from the Sault to enjoy an accessible beach, which has been nominated as one of the top 10 beaches in Ontario, and to close the gates to cars is really ludicrous when you should be able to drive in here and use this beach."

"All we really want, as a group of residents, is to have those gates reopened, as simple as that, until the end of the summer season, in October. The fact that the Superintendent of the Park himself (Chris Caldwell) said to keep the Park open is a duplication of services, is hard to comprehend."

"Pancake Bay is a wonderful park, but people driving by Batchawana Bay Provincial Park, they can see exactly what they are going to get, its easily visible from the highway, whereas with Pancake, you have to drive in and explore."

"I'm concerned about the fall tourist traffic going by, I want them to have the opportunity to get into the park, and there are local residents here who go for a walk every day, who now have to park up here on the shoulders and walk in."

"This year, this park was added to two others, to make three day parks with a limited summer season, out of a total of 13 day parks in the province, so a very small minority of parks have a limited season, we are now a part of that minority."

"It makes no sense."

Mantha has written a letter to Minister of Natural Resources Micheal Gravelle requesting the reopening of Batchawana Bay Provincial Park, and is awaiting an answer.