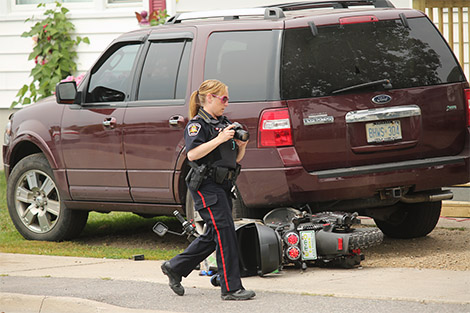 Sault Ste. Marie Police Service officers investigated a collision Monday afternoon involving an electric scooter, commonly known as an e-bike.
According to witnesses the e-bike apparently lost control and collided with a car that was parked on a front lawn on Wellington Street near Simpson Street.
It is unclear if the e-bike was riding on the street or the sidewalk at the time of the collision.
The driver of the e-bike was sent to hospital with unknown injuries, no one else was injured in the collision.
According to the Ontario Ministry of Transportation website, e-bikes can look like bicycles, scooters or even a small motorcycle and are allowed on city streets and anywhere a traditional bicycle is allowed.
(PHOTO: A Sault Ste. Marie Police Service officer takes photos at the scene of an e-bike collision on Wellington Street on August 11, 2014. SooToday.com/Kenneth Armstrong)
*************************
Editor's note: Comments on the above article have been disabled due to persistent inappropriate postings. SooToday.com's View Room is available for general discussions. Please read our Terms of Service before commenting on any comment section of SooToday.com.