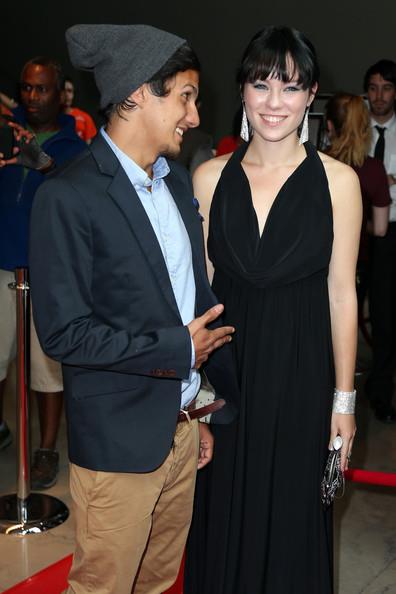 Sault native Dylan Cook was in Toronto recently for the Toronto International Film Festival (TIFF) premiere of The Lesser Blessed, a film based on Richard Van Camp's novel of the same name.

The film, which stars Benjamin Bratt (Law and Order, Private Practice) as Jed, Joel Evans as Larry Sole, Kiowa Gordon (The Twilight Saga) as Johnny Beck, and Chloe Rose (Degrassi: The Next Generation) as Juliet Hope, is set in the fictional Northwest Territories community of Fort Simmer.

The Lesser Blessed depicts the story's antagonist, Larry Sole, coming of age as a Native teen in a modern world.

After a bit of coaxing from friends, Cook seized the opportunity to be on the big screen and travelled to Sudbury last winter to audition for the film.

He was successful and was cast as Mustache Sammy, friend of the main characters.

"He could not believe it when he got the call informing him that the movie that he had so much fun acting in, actually made it to TIFF," Cook's parents wrote to SooToday.com. "He was completely overjoyed and overwhelmed with the fact that he would be attending 2012 TIFF for his part in this movie."

The 20-year-old St. Marys College graduate, after being part of The Lesser Blessed, decided to continue pursuing a movie career and is currently enrolled at Sault College learning special effects makeup.

In order to gain as much movie experience as he can, Cook has been busy this past year helping with productions filming in the Sault and area, including Compulsion (Kevin Dillion, Heather Graham and Carrie Ann Moss), Split Decision (Brendan Fraser, Dominic Purcell and Ethan Suplee), and currently Pride of Lions (Bo Svenson, Lou Gossit Jr and Margot Kidder).
To see the trailer and learn more about The Lesser Blessed, please click here.
Visit Dylan Cook at IMDb.
Pictured: Dylan Cook at the TIFF premiere of 'The Lesser Blessed' with Chloe Rose.