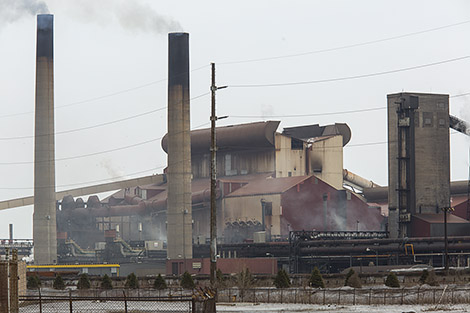 Essar Steel Algoma is upset over a decision regarding steel dumping.
The Canadian International Trade Tribunal (CITT) has determined the dumping of steel products into Canada by steelmakers in India and Russia has not harmed, or threatens to harm, the Canadian steel industry.
"We are very disappointed with the tribunal's ruling and the serious ramifications this will have for the Canadian steel plate industry," wrote Brenda Stenta, Essar Steel Algoma manager of corporate communications, in an email to SooToday Thursday.
The announcement from the CITT, or 'tribunal,' an independent quasi-judicial body that reports to the federal government, came Wednesday.
"The Canadian International Trade Tribunal hereby finds that the dumping of the aforementioned goods (hot-rolled carbon steel plate and high-strength low-alloy steel plate) originating in or exported from the Republic of India and the Russian Federation and the subsidizing of the aforementioned goods originating in or exported from the Republic of India have not caused injury and are not threatening to cause injury to the domestic industry," the tribunal wrote Wednesday.
The tribunal will announce the reasons for its findings later this month.
The complaint regarding the dumping came from Essar Steel Algoma in September and was first investigated by the Canada Border Services Agency (CBSA), which issued a determination last month that dumping on the part of India and Russia had been taking place.
"We disagree with their (the CITT) decision and will await the release of their statement of reasons before we comment further," Stenta wrote.
The decision comes as Essar Steel Algoma is in the midst of a restructuring process under the Companies' Creditors Arrangement Act (CCAA).
A "barrage of imports" from foreign steelmakers is one of the factors the company cited in seeking the restructuring.
Previous SooToday coverage of this story:
Essar Steel Algoma prevails with complaint against India, Russia
Essar Steel Algoma sister firm doesn't pay its bills (9 p.m. update)
Essar takes more than a year to attract executives to 'remote' Sault
David O. writes an urgent letter to Justin T. about local livelihoods
Essar Steel Algoma seeks millions in bonuses for 23 key executives
Union did not protest Essar's skipped payment to pension plan
Essar Steel Algoma creates good-paying jobs. For 46 lawyers
Local businesses left holding millions in dicey Essar debt
Province hasn't given promised money to Essar Steel Algoma. Yet
Sheehan talks to Essar CEO. He's not asked to help
'We expect to come out of this a much stronger company' - Kalyan Ghosh
Mayor already talking to Essar Steel Algoma
Essar Steel Algoma to continue operations during restructuring
Essar Steel Algoma enters creditor protection, says report