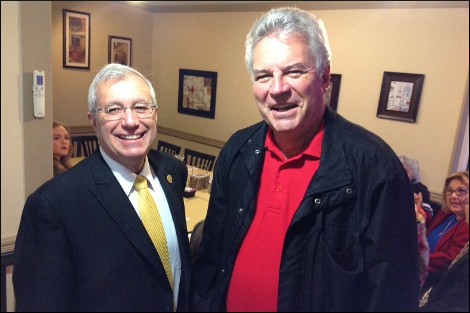 When you're a nice Calabrese boy from North Bay and you want to be premier of Ontario, how do you start?
Well, first you announce yourself as a candidate for the leadership of the Ontario Progressive Conservative Party.
Then you find your way to Sault Ste. Marie and, at the very beginning of your address to local party faithful, you firmly establish your Italian street creds.
That's exactly what Vic Fedeli was doing today at Absolutely Delicious in the Days Inn on Bay Street.
You don't get far in politics in this city without courting the Italian vote.
But fortunately, Fedeli's street creds are di alto livello.
"Mangia! Mangia! Please eat! In every language we understand that," the Nipissing MPP exclaimed after noticing that food had been served to many of the 22 locals sitting around eight pulled-together tables, but they were all politely waiting for him finish before they tucked into breakfast.
"My family is from the Sault. 'Hub' Fedeli, my father, was born and raised here in the Sault. Worked at the steel mill, like many families here in the Sault.
"I'm surrounded today by some cujinos as well. Beautiful to see family and others whose name ends in a vowel," Fedeli said.
Continuing to warm up the crowd, the popular former North Bay mayor then joked about the problem he and other Calabrians from the "toe" region of Italy have understanding their Italian-speaking neighbours on the nearby island of Sicily.
"I was at a function the other night with some Sicilians. They don't even speak Italian, as far as I'm concerned…. I was trying to talk Italian to them but they didn't understand one word that I said.
These days, a lot of people don't understand what's happened to the political party that Fedeli wants to lead.
The Progressive Conservatives ran Ontario during 80 of the 147 years since Confederation.
From 1943 to 1985, the PCs didn't lose a single election - the longest stretch of uninterrupted one-party provincial rule in Canadian political history.
But the once-great party hasn't won a single Ontario election since 1999.
"June 12 was a devastating day for us," Fedeli said today in the Sault. "That's the fourth election the provincial Tories have lost. That is just unacceptable…. Whatever it is that we're doing, we're doing wrong."
How bad is it?
In 2011, there were 2,500 Fedeli lawn signs in his Nipissing riding.
During this year's election, Fedeli was only able to place 1,500 signs.
"A thousand fewer signs. Because they were ashamed to put my sign up. These were friends and family." he said.
"We need to restore pride in our party. I want to be able to go door-to-door in the 2018 election and have people say to me: 'Vic, welcome, I want your sign.'"
"I think the first thing we need to do is listen to our members. Understand the message from them. Who better knows what we're doing wrong than our members in each of the 107 ridings?"
Fedeli has prepared initial drafts of five amendments to the party constitution that he intends to present to the next Ontario Progressive Conservative convention.
His proposed changes include defining responsibilities of the party leader and requiring the leader to have any election platform ratified by the party's caucus and policycommittee before it's released to the public.
Fedeli talked a lot about putting the needs of the province ahead of the political needs of any party.
"It's not about ideology. It's not about politics. Good ideas don't come from a particular political stripe. Good ideas can come from all areas. Why don't we just put the politics aside and do what's right for Ontario?"
Before he was a politician, Fedeli was an ad man, and by all accounts, a very good one.
"I opened the first ad agency north of Toronto," he said during his campaign launch speech on September 24. "This was not easy. There were lean times."
So lean, that when his local chamber of commerce presented him with a 'first dollar of profit' certificate, Fedeli had break it open to use the dollar for lunch.
"Those lean days taught me the value of a buck. My team and I built a global agency that communicated with people all over the world, from our base in Northern Ontario. One of the proudest moments in my business career was when Fedeli Advertising was named 34th in the Top 50 Best Places to Work in Canada.
"In 1992, Patty and I sold the company and began to think about how we can give back to the community that gave us so much.
"I am entering this race because I can bring the formula for success that I've achieved to the party and to the province."
In attendance this morning were Sault MP Bryan Hayes, Ward 6 City Council candidates Ozzie Grandinetti and Ross Romano, Huron-Superior Catholic District School Board candidate Bill Murphy and Doug Lawson, former Algoma University president and Conservative candidate in the 1997 and 2000 federal elections.
Another candidate for the party leadership, Barrie MP Patrick Brown, was in the Sault last night.
According to organizer Josh Pringle, about 75 people attended the Brown event.
Other declared candidates in the leadership race are Whitby-Oshawa MPP Christine Elliot, Nepean- Carleton MPP Lisa MacLeod and Lambton-Kent-Middlesex MPP Monte McNaughton.
Elliot and McNaughton have also visited the Sault over the past two months.
(PHOTO:

Sault MP Bryan Hayes showed up today to greet Vic Fedeli, the former North Bay mayor and Nipissing MPP who's seeking the leadership of the Ontario Progressive Conservative Party. David Helwig/SooToday)