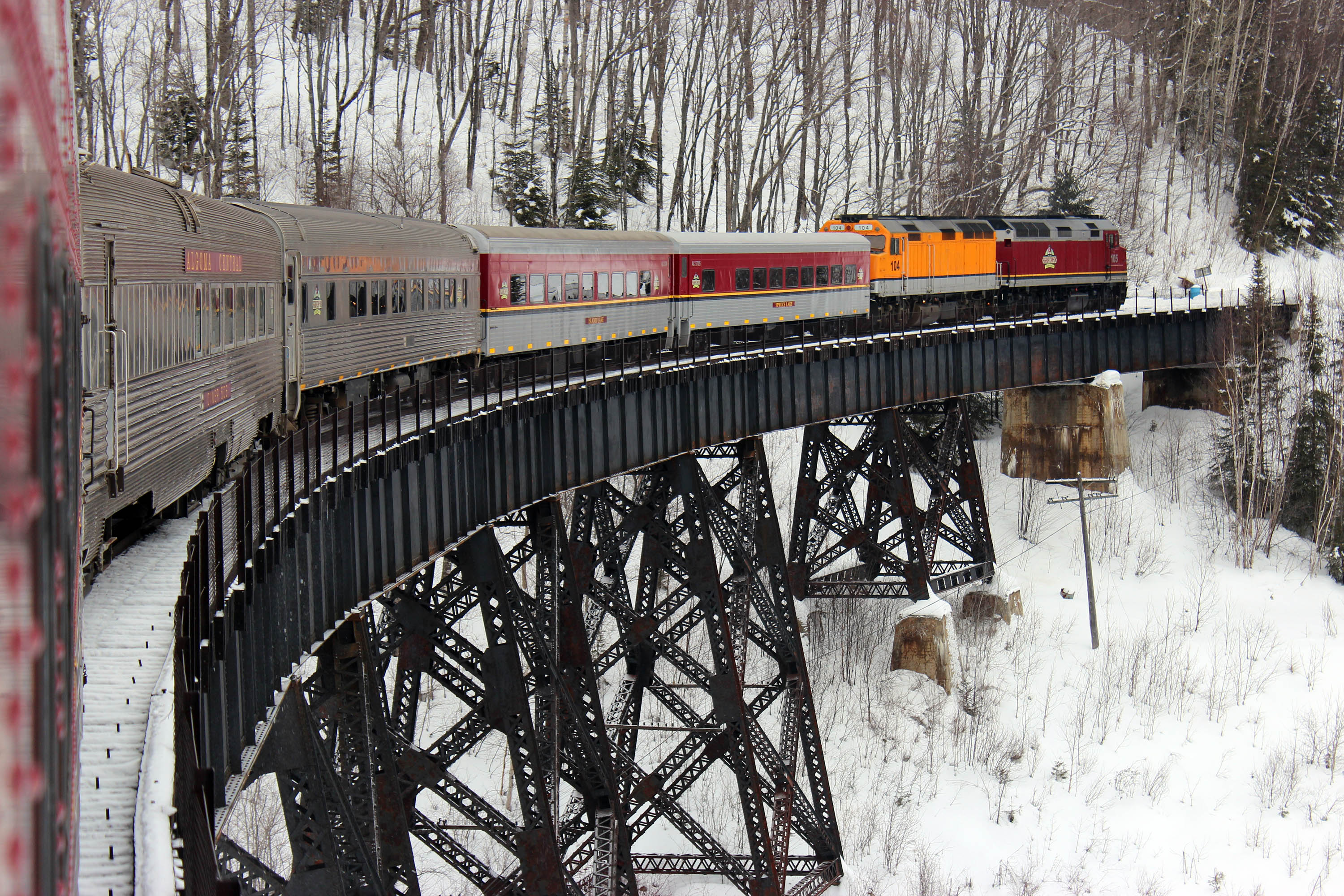 Last night in Ottawa, Sault MP Bryan Hayes logged into Local2 and kicked back to enjoy Village Media's livestreamed coverage of the slings and arrows of a Sault Ste. Marie City Council meeting.
It was a new experience for the former Ward 3 councillor - watching his one-time council colleagues in action, from the nation's capital.
Hayes was particularly interested in a discussion about the imminent demise of Algoma Central Railway's 101-year-old rail passenger service.
Last night, councillors unanimously passed a resolution requesting urgent federal assistance to save the struggling operation.
And Hayes was itching to answer a question asked last night by Ward 2 Councillor Terry Sheehan: What's the hold up?
"When [federal] Transport Minister [Lisa] Raitt was up here last year announcing the extension [of federal support for ACR passenger service], it was pretty clearly understood by me and I assume everyone else in the room that she didn't want to be doing the same thing a year later," Hayes told SooToday.com in an interview today.
ACR got $2.2 million then in taxpayer's money.
That was supposed to last one year.
By March 31 of this year, ACR was supposed to have developed a sustainable long-term solution, finally uncoupling its money-losing passenger cars from the federal gravy train.
"It was my hope and the minister's that one year would provide a solution," Hayes said.
It didn't.
But Algoma Central does have a plan, including a qualified third-party operator who's signed a letter of intent with CN to operate the passenger trains on a-self sustaining basis after five years.
The federal government is being asked for $7 million over that five-year-period.
In return, the ACR Passenger Service Stakeholders Working Group is promising a 45 percent net funding reduction until the five years are over.
And self-sufficiency after that.
No more gravy train.
The plan was sent to the federal government on December 19.
Bryan Hayes says he supports it and is pushing for it.
So what's the hold up?
According to Hayes, these things take a while because fiscally responsible governments have budgets.
"It's taking so long because we don't have a budget for $7 million. There's a process that needs to be followed for the government to find the money, if they can find the money," he says.
Hayes says he's lobbying hard for the cash, but he's up against others who point out that CN is a hugely profitable, multinational corporation.
"They're very profitable. There are questions about whether the government should be in the passenger rail business."
Hayes says the original recommendation to cut off federal funding to ACR passenger service was made by federal bureaucrats and governments generally listen carefully to the people they pay to make such decisions impartially.
At the same time, he was successful in getting an extension one year ago and he says he's working hard again to support the new ACR package.
What's different this time is that there's a clear cut-off date - five years from now, after which the federal government will be out.
"That's the selling point from my perspective," Hayes says. "That's my lobby point with the federal government."
"I hope that the government will understand the significant economic benefit and will support this request. We're working very hard to make this happen."
Joe Fratesi, Sault Ste. Marie's chief administrative officer and chair of the ACR Passenger Rail Service Working Group, told last night's meeting that under an undertaking to CN, the identity of the third-party operator can't be disclosed until the final agreement is signed.
"There have been two letters written to the minister, asking for her support," Fratesi said. "At the end of the day, they're off the hook on any type of subsidy, although there is some question as to whether they should be let off the hook at all."
"This, we hope has been made very attractive to them," the CAO said. "They will see, at the end of the five-year period, light at the end of the tunnel, where there will no longer be the need for what they may see as subsidy, but what we see as investment into this region."
The following is the full text of the resolution passed by City Council last night:
*************************
Mover : Councillor S. Butland
Seconder : Councillor J. Krmpotich
Whereas the Algoma Central Railway Passenger Service provides a significant return on Transport Canada's investment of $2.2 million, which generates between $38 million and $48 million in annual economic benefits for the region; and
Whereas the total economic impact of the Algoma Central Railway passenger service includes tax revenue which accrues to all levels of government estimated at between $5.1 million and $6.4 million, as well as generating employment opportunities estimated at approximately 170 to 220 jobs; and
Whereas the discontinuation of the Algoma Central Railway passenger service will result in a loss of the economic benefits, tax revenue and jobs noted and an additional one-time economic impact on the values of properties located on, or in close proximity to the rail line, in an amount ranging between $60 million and $67 million; and
Whereas discontinuation of the passenger service will result in businesses, communities and residents being unable to access their properties, homes and cottages via public thoroughfares; and
Whereas Transport Canada Minister Raitt stated on April 14, 2014 that: "The government is pleased to extend funding for another year to continue operation of ACR's passenger rail service between Sault Ste. Marie and Hearst. This funding will give local stakeholders time to explore long-term solutions for passenger rail service in the area"; and
Whereas there has been a productive and collaborative effort of all affected stakeholders, including municipalities, First Nations, passengers, property owners, tourist operators and CN to develop a thoughtful, sustainable long-term solution for the ACR passenger service; and
Whereas affected members of Parliament have been kept fully informed throughout this process, and their co-operation and positive engagement with the working group to date have been greatly appreciated; and
Whereas after an expression of interest and request for proposals, a qualified third-party operator has signed a letter of intent with CN to operate the Algoma Central Railway passenger service on a self sustaining basis after five years; and
Whereas there is currently a request by the stakeholders and third party operator that the Government of Canada enter into a five-year, $7 million contribution agreement (maximum) similar in design and structure to the annual contribution agreement Transport Canada has had with CN; and
Whereas said five-year contribution agreement includes a 45 percent net subsidy reduction for the agreement period and more importantly fully terminates at the conclusion of the agreement; now
Therefore be it resolved that the City of Sault Ste. Marie supports this request that the Government of Canada urgently provide funding toward the Algoma Central Railway passenger service initiative.
************************************************