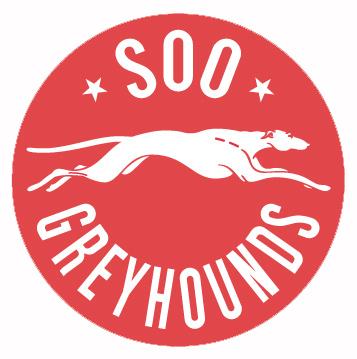 In the midst of the Ontario Hockey League playoffs, the league held its annual priority selection on Saturday via the internet.
Though many of the players will be at least a full season away from competing for full-time roster spots, draft day goes a long way in building some of the teams who are battling it out in the conference semi-final series' currently going on.
For the Soo Greyhounds, it was an opportunity to add some pieces to an organization that wants to be regularly successful.
The team began the day with the 17th overall pick in the opening round and selected Windsor, Ont. native Anthony Salinitri of the Windsor Jr. Spitfires minor midget team.
A diminutive centre, Salinitri adds a component the Greyhounds are looking for despite his size.
"He's a player that fits in with how we want to play here," Greyhounds General Manager Kyle Dubas said. "He certainly adds speed and skill to our lineup but more than that is he's a competitive kid. He's very responsible in all three zones."
Dubas referred to the Greyhounds current playoff series with the Erie Otters and spoke of how the Otters top line of Connor Brown, Dane Fox and Connor McDavid features three players who play similar styles to that of the 5-foot-9 Salinitri.
"You can talk all you want about playoffs and needing certain things, but their top line has been torching us," said Dubas. "They're guys that are 5-10 or 5-11 and 170 to 180 pounds. You win with competitiveness, skill and speed and that's what we found here is that we're up against."
Salinitri's older brother plays for the University of Windsor men's soccer team.
The Greyhounds used Saturday's draft to add a pair of goaltenders as well, including one with one of their two second round picks where they selected Chatham goaltender Joseph Raaymakers. In round seven, the Greyhounds then selected Sun County Panthers goaltender Tyler Wall with their second of two picks in the round.
"This was a chance to add two goalies that we had rated very high," Dubas said. "Joseph is a very athletic and agile young goaltender. He's extremely competitive and has a lot of belief in himself. He was really good the whole season but came on at the end of the year in the Alliance playoffs, the OHL Cup and the OHL Combine. Our goaltending consultant, Jon Elkin, raves about him so it's exciting to add him."
"We hope that they'll push each other and, together with Brandon Halverson, form the beginnings of a very solid goaltending group for us," Dubas said.
Dubas said Raaymakers will be given an opportunity to compete for a spot with returnee Brandon Halverson next season as four-year veteran Matt Murray moves on to pro hockey in the Pittsburgh Penguins system. Dubas said the chance will be given to Raaymakers to make the team before the team explores a trade option for a goaltender.
"I'd rather pay more knowing it's a problem than pay a lot when it could be a problem and not knowing for sure," said Dubas.
The Greyhounds other second round pick saw the team select Waterloo left winger Boris Katchouk.
"I think Boris is going to be a fan favourite here," Dubas said of the Greyhounds other second rounder. "He has great speed and is a terrific competitor. He has the ability to bury his chances. He's a very good shooter and finisher. He has a high skill level and combines all of that with tremendous competitiveness and toughness. That's exciting for us."
The Greyhounds other selections on Saturday included:
Round 3 – Tim Gettinger, LW, Cleveland Barons
Round 4 – Conor Timmins, RD, Southern Tier
Round 5 – Owen Guy, C, Upper Canada
Round 6 – Ryan Da Silva, RD, York Simcoe
Round 7 – Owen Burnell, C Hamilton Bulldogs
Round 8 – Jack Kopacka, LW, Compuware
Round 9 – Nicolas Mainella, LD, Sun County
Round 10 – Kyle Betts, C, Grey-Bruce
Round 11 – Mitchell Chaffee, RW, Michigan Nationals
Round 12 – Mac Hollowell, RD, Niagara Falls
Round 13 – Elijah Nurse, LW, Hamilton
Nurse is a cousin of current Greyhounds captain Darnell.
Dubas said that, despite the number of possible players the Greyhounds could return next season, the opportunities are there for some of the new draftees.
"Knowing our coaching staff, they want the best players to play," Dubas said. "At the beginning of the year you saw us move out some older guys in order to ensure that some of the younger guys could play. We're not afraid to go with young people in positions of importance. You always hear that if you want to win you've got to be older, and it's always nice to have that experience, but some of our guys have shown that when you put those guys in a position where they're going to develop, they're going to be able to pass by some guys that may but older but aren't as good."
The team has scheduled their development camp for the weekend of Apr. 25, with events scheduled for the Essar Centre.
Local products drafted on Saturday included Nic Sicoly, who spent this season with the Toronto Marlies (4th round by Guelph) as well as Soo Thunder teammates Zack Dorval (2nd round by Kingston), Zachary Senecal (7th round by Oshawa), Adam Baggs (10th round by Niagara), Matthew MacKay (14th Round by Kitchener).