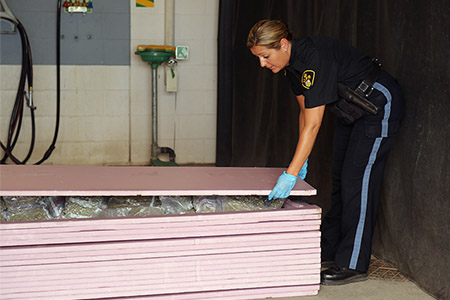 For the second time in a week, Ontario Provincial Police officers have made a significant bust of marijuana being driven through Sault Ste. Marie.
The driver of a van was pulled over on Great Northern Road at Fourth Line on May 21 as a result of a driving complaint, said OPP Constable Monique Baker.
Police discovered the marijuana during the traffic stop and arrested the driver.
"The estimated value of the seized 100-pounds of cannabis is around $679,000 street value," said Baker.
Baker adds within the last week the Sault Ste. Marie detachment has seized aproximately $1.2-million worth of illegal drugs.
The marijuana was hidden withing a stack of styrofoam sheets, which were hollowed out to hold the sealed bags, said Baker.
A full sheet was then placed on top as a lid, obscuring the marijuana.
Devon Robinson of Cambridge, Ontario was released on bail and will appear in Provincial Court in Sault Ste. Marie on June 16, 2014.
Watch video of today's OPP press conference at LOCAL2.ca
(PHOTO: OPP Constable Monique Baker demonstrates how 100-pounds of marijuana was hidden within building materials. SooToday.com/Kenneth Armstrong)
Previous SooToday.com coverage:
What does $600,000 worth of weed look like, anyway? (5 photos)