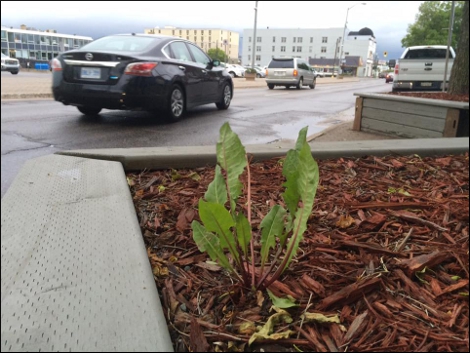 It turns out that a Queen Street improvement project won't be placed on hold, after some last-minute backroom manouvering by the Downtown Association.
City Council agreed last night to authorize immediate tendering of streetscape improvements for the Bruce-Dennis block, leaving out only a controversial pedestrian lighting component.
Last week, city planning staff decided to present the initiative to councillors as an information item only - not an action item - after business and property owners expressed concern at an open house at the Civic Centre.
"Subsequent to the meeting, several people stayed and indicated that they would be in favour of moving forward with the project this year," said Planning Director Don McConnell in a report to councillors.
After the open house last Wednesday, Duane Moleni, executive director of the Downtown Association, contacted members of his board and other downtown merchants.
"On Friday, Mr. Moleni advised staff that the board strongly supported the proposed streetscape program for this year but asked that the light fixtures not be installed at this time," McConnell said.
"They are concerned that the proposed lighting, while interesting, would create a third type of pedestrian lighting along Queen Street. They would prefer that the city wait until the conversion of the streetlights to LED is completed and then we can meet to select a single pedestrian scale lighting fixture for the downtown."
The pilot project will add shared soil trenches for new trees, custom benches, open planting beds and paving stone edgers at open planters on Queen Street between Bruce and Dennis.
If the improvements are well received, the same elements will be installed on other blocks along Queen as funding becomes available.
Ward 4 Councillor Rick Niro asked last night whether more benches could be installed downtown.
"I agree with you completely," McConnell replied, pointing out that he hears that suggestion repeatedly from seniors.
There will be a number of benches installed as part of this year's improvments in the Bruce-Dennis block, McConnell said.
Adding benches further along Queen Street will be dependent on funding and that will be known only when tenders are received for this year's work, he said.
Ward 3 Councillor Matthew Shoemaker asked about the deteriorating Walk of Fame stones in front on the Essar Centre.
"Are we getting rid of our famous people?" Shoemaker asked.
Susan Hamilton Beach, deputy commissioner, public works and transportation, said that there have been unofficial proposals to relocate the crumbling commemorations, which are taking a beating from Northern Ontario's winter maintenance.
It's been suggested that the markers be moved to one of the Essar Centre's side walls.
"It's still at the discussion stage," she said,
Nick Apostle, commissioner of community services, said that money for that purpose was referred to this year's budget discussions but the idea didn't get funded.
Transferring the Walk of Fame inductees to an Essar Centre wall would cost about $20,000, Apostle said.
(PHOTO: A lonely weed surveys Queen Street from a street planter between Bruce and Dennis after last night's City Council meeting. David Helwig/SooToday.)