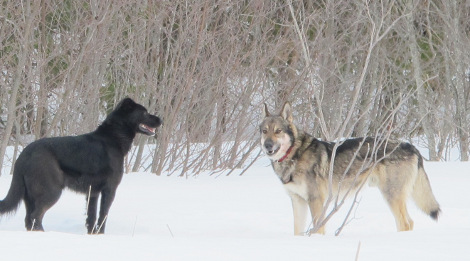 Two dogs believed to be responsible for killing deer in the Point Aux Pins Drive area have been captured alive, and are now in the custody of the Sault Ste. Marie Humane Society.
The dogs appear to have been on their own "for some time," said Cindy Ross, Humane Society manager.
"They're not in very good shape," said Ross.
The Ministry of Natural Resources said Monday that the dogs would be "dispatched" by conservation officers, but a spokesperson told SooToday.com on Wednesday that the dogs were captured alive separately on Tuesday.
One of the dogs was taken in with the help of an area resident.
"I'm pleased the dogs are not roaming at large attacking deer," said Jolanta Kowalski, MNR spokesperson, in an e-mail.
"While our conservation officers can legally shoot dogs attacking deer, we're glad they didn't have to this time."
What happens to the dogs now is unclear.
Ross said the Humane Society is currently holding them for five days under a city bylaw.
What happens next will depend on discussions with the MNR.
Kowalski said the MNR is investigating to find out who the dogs belong to.
One of the animals was reported to have been wearing a collar.
Kowalski said under the Fish and Wildlife Conservation Act, it is illegal to let a dog run at large in an area inhabited by deer, moose, elk or bear during the closed season.
Ross said the dogs were hungry and frightened when they came in, but their dispositions appear fine.
"They're very sweet dogs," said Ross. "They're not wild by any stretch."