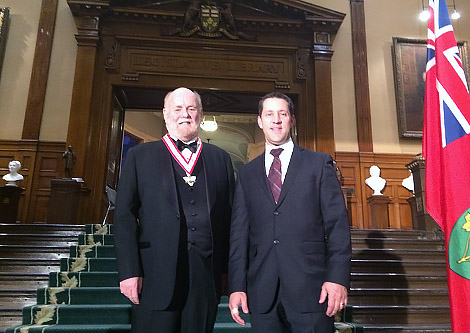 NEWS RELEASE
DAVID ORAZIETTI MPP
*************************
QUEENS PARK - David Orazietti MPP attended a Queen's Park ceremony today to congratulate Ron Common on being appointed to the Order of Ontario.
"I congratulate Ron Common, an extremely deserving recipient of the Order of Ontario, the province's highest honour," said Orazietti. "He joins a prestigious group of Ontarians who have made exceptional contributions to communities across the province."
Ron Common is being presented the Order of Ontario by the Honourable David C. Onley, Lieutenant Governor of Ontario today at a Queen's Park ceremony recognizing 25 outstanding citizens from across the province.
The Order of Ontario is awarded to Ontarians for excellence and achievement in any field. The individuals awarded this honour represent an array of disciplines including arts, law, science, medicine, history, politics, philanthropy and the environment.
Ron Common, President of Sault College since 2007, a multi-degree graduate, received his Bachelor of Arts, Bachelor of Education and Master of Education degrees from the University of Manitoba. He earned his Ph.D. in Educational Administration from the University of Ottawa in 1980.
Ron Common's research interests include educational issues related to Aboriginal groups, managing organizational change within educational organizations and international development.
He has worked extensively with Aboriginal communities throughout Canada, creating First Nations school systems and, on occasion, helping to build schools.
He has worked on international development projects in Malawi, Cameroon, Kenya, China and Jordan for the past decade.
He was recently inducted into the Nipissing Human Rights Hall of Fame for his work with First Nations and disadvantaged people around the world.
Ron Common joins a prestige list of past Sault Ste. Marie recipients of the Order of Ontario including, Dr. Sandra E. Black, The Honourable Ray Stortini, Dr. David Walde, Dr. Roberta Bondar and Ken Danby.
Quick Facts:
· Created in 1986, the Order of Ontario, the province's highest official honour, recognizes the highest level of individual excellence and achievement in any field
· Nominations are made by members of the public. The deadline for nominations is March 16, 2014
*************************