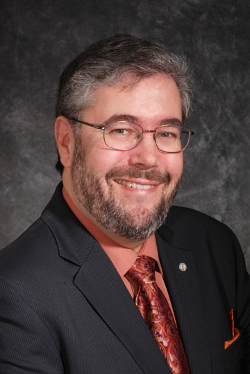 Following the September 4, 2013 official opening of the Laurentian University School of Architecture in Sudbury, a notable Southern Ontario-based architect says the new facility is good news for the North, including Sault Ste. Marie.
President of the Ontario Association of Architects (OAA) Bill Birdsell (pictured), speaking to SooToday.com from his Guelph, Ontario office Thursday, said: "By having a school in the North, it's going to raise the profile of architecture in the North."
Birdsell is currently conducting a province-wide tour in his role as President of the OAA.
Birdsell was unable to attend a scheduled meeting with Sault Ste. Marie architects Wednesday, but the meeting went ahead as planned, indicating he is aware of concerns raised and input offered by representatives of seven local architectural firms.
Architectural firms in the North are experiencing difficulty attracting interns and new architects.
Birdsell and the OAA are confident the new Laurentian University School of Architecture will fix that.
Birdsell stated many architects tend to study their profession and work in or near where they were born and raised, pointing to his own roots, education and work experiences in Southern Ontario.
"It will encourage Northerners interested in architecture to study it in the North, then go on to work as architects in the communities where they were born."
That, in turn, will stimulate the economies of communities like Sault Ste. Marie, Birdsell said.
"We've grown by 25 percent in licensed architects over the last five years, and there's great potential for firms to grow in the North."
Birdsell added: "There's a very vibrant design community in the North, working on the local churches, government buildings and commercial buildings…I see a lot of development in the communities I've been to. They've been designed by Northern architects."
The Laurentian University School of Architecture itself focusses on sustainable design, indigenous culture and Francophone culture.
Sustainable design, Birdsell explained, "is about integrating buildings with the environment, how a building blends in or contrasts with the environment."
"We're very concerned now with moving buildings forward to be carbon neutral by 2030, meaning a building will create as much energy as it uses with wind or solar power, or use renewable waste products for heating."
The architect is enthused about the new institution's focus on indigenous and Francophone culture.
"Hopefully, people that go to school there who come from the First Nations or Francophone cultures, will stay and give back to their communities in an architectural way."
"Adding a cultural component gives us more diversity to the usual 1970s bricks and mortar look," Birdsell chuckled, adding he has noted that many Northern architects incorporate pine in their buildings because of the widespread presence of pine trees in our region.
While the OAA is excited about the new Laurentian University School of Architecture, Birdsell said architects, like contractors, are concerned about provincial regulations involved when bidding on publicly-funded projects.
Municipalities, like Sault Ste. Marie, are currently bound by the Labour Relations Act to accept tenders from construction companies affiliated with certain unions in the building of public buildings.
A private member's bill, known as Bill 73, is aiming to change that by opening up the tendering process to a wider number of qualified contractors.
Birdsell said that similarly, with architectural firms, "When it comes to larger projects like hospitals, police stations and school board projects, local firms are often cut out of the bidding process."
"We find that entirely inappropriate."
Birdsell said taxpaying citizens should encourage their civic leaders to build the best public buildings for the best possible price.