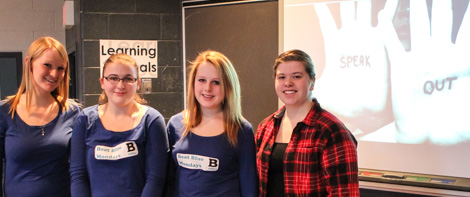 Jessica Roberts, Jaymie Frech, Rachel Woods, and Victoria Corbett (pictured above) are members of YOUnion, part of the Algoma Family Services Youth Engagement Team.

Last Friday, the group presented important information regarding stress, depression and general mental health to students at St. Basil Secondary School in anticipation of Blue Monday.

Today, the third Monday of January, is historically considered the most depressing day of the year.

The purpose of the presentation was to dispel myths about mental health issues and inform students that help is available should it be needed.

St. Basil's Chaplaincy Leader, Stephanie Parniak, told SooToday.com that she's shocked by the number of students that have come forward with issues.

"Often, I see them come to me when they're in crisis," she explained. "We want to make sure we can support students before they get to the point where they're in crisis. This would hopefully prevent hospital stays and such."

Fore more information about Algoma Family Services and its initiatives, please click here.