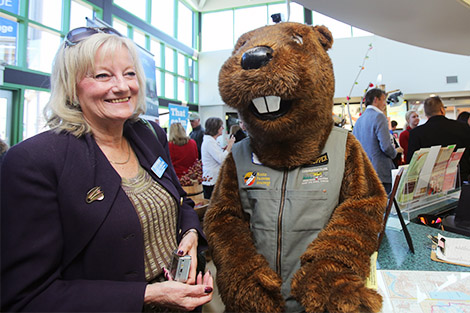 Tourism partners were invited to show off some of their attractions and upcoming events during an open house at the Sault Ste. Marie Travel Information Centre on Thursday to celebrate Tourism Week.

"We are encouraging people to visit the city, but also locals to come in and plan their summer vacations and get travel ideas from our staff," said Angela Romano, team leader at the centre.

Many people plan vacations away in the summer, but Romano notes that there's a lot to do in the Algoma region.

"People really should discover what is in their own backyard, we have such a wide variety of attractions available," she said.
Partners in attendance who have displays at the centre include the Agawa Canyon Tour Train, Parks Canada, Eat Algoma and Mill Market, among others.

Romano highlights the 4Culture Pass, which offers a discounted admission to four heritage sites across the city.

One of those attractions on the pass is admission to the Canadian Bushplane Heritage Centre, which will be celebrating its twenty-fifth year during the upcoming Bushplane Days, says marketing and promotions co-ordinator Edie Suriano.

The pass also includes admission to the Sault Ste. Marie Museum, The Ermatinger Clergue House and the Art Gallery of Algoma.

"Especially with Ermatinger and ourselves we promote 'come to the corner' during Bushplane Days because we have our festivals at the same time," said Suriano.

Mayor Debbie Amaroso said she agrees it is important for residents to know the attractions to be able to promote them to tourists passing through the city.

"There's so much appeal, whether you're a sports enthusiast, an adventurer, or if you want culture and history. We have everything here," said Amaroso.
Displays will be up until Sunday. Tourism Week runs June 2-8 and is intended to raise awareness of the tourist attractions and events across Ontario.
(PHOTO: Edie Suriano and Chopper from the Canadian Bushplane Heritage Centre share a laugh June 5, 2014 during Tourism Week in Sault Ste. Marie. SooToday.com/Kenneth Armstrong)