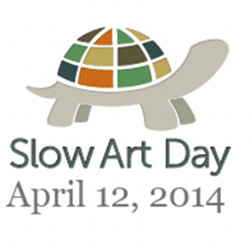 NEWS RELEASE
ART GALLERY OF ALGOMA
*************************
Slow Art Family Day and Slow Art Day at the Art Gallery of Algoma
"Slow Art Day is the global all-volunteer event with a simple mission: help more people discover for themselves the joy of looking at and loving art."
Attend two great events for all ages at the Art Gallery of Algoma on April 12.
It's Slow Art Day around the world; join us as we celebrate this global movement of looking at and making art slowly!
This is what the global organizers of Slow Art Day have to say about the event:
"When people look slowly at a piece of art they make discoveries. The most important discovery they make is that they can see and experience art without an expert (or expertise). And that's an exciting discovery. It unlocks passion and creativity and helps to create more art fans."
This is how it works: One day each year – April 12 in 2014 – people all over the world gather at local arts and culture venues to look at art slowly.
Participants look at five works of art that have been chosen by five community volunteers including Teddy Syrette, Liz Cooke, Sherie Myers, Jackson Reed, and Gabriela Benitez.
Guests take 10 minutes to discover each of the chosen art works and then meet in the AGA café for a Slow Food lunch and to chat about their new discoveries.
Meanwhile in the studio, families are invited to paint to the classical sounds of Stravinsky.
Together artists of all ages and skill levels will create a large scale collaborative painting in the style of Russian artist Kandinsky.
Other activities will include drawing slowly by hand and taking time to create a Haiku Poem about the art that we see.
To Buy tickets and register for Slow Art Day and Lunch please visit our Eventbrite registration page, call 705-949-9067 or email galleryinfo@artgalleryofalgoma.com
*One artist's junk is another artist's treasure. Bring in a donation of art supplies that you no longer want and other recycled materials like egg cartons and paper towel rolls. We'll include them in our Earth Day Art Supply Swap April 22, 2014 between 12 p.m. - 4 p.m.
Slow Art Day
Art viewing: 12-1 p.m.
Slow Food Lunch in the Cafe: 1- 2 p.m.
Cost: Students: $5; AGA Members $10; $15 Non-Members
Host: Art Gallery of Algoma 10 East St. Sault Ste. Marie
Slow Art Day Family Day
Art activities for the whole family
Free I Family Friendly I 1- 4 p.m.
Lunch for sale in the café
Host: Art Gallery of Algoma 10 East St. Sault Ste. Marie
*************************