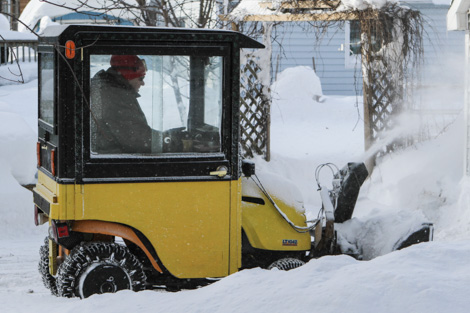 Wellington Street East resident Steve Court knows how to handle winter in style.

It took him about a month and a half to convert his Cub Cadet riding tractor into the Model A Ford-inspired machine pictured above.

"It's supposed to look like a Model A Ford, but I made it a little bit too tall," Court told us. "But I didn't want to bang my head getting in and out of it."

All the wood used in its construction is recycled from other projects, and the windows are fashioned from kitchen cabinet tempered glass purchased from the Habitat For Humanity ReStore.

The creation has working head lights, tail lights and reverse lights, and a heater in case the windows fog up.

Court said he plans on installing windshield wipers soon, which he pilfered off a neighbour's vehicle just as it was being towed to the wrecking yard.

Although he hasn't officially named his snow removal machine, Court told us his wife often refers to it as 'Betsy'.