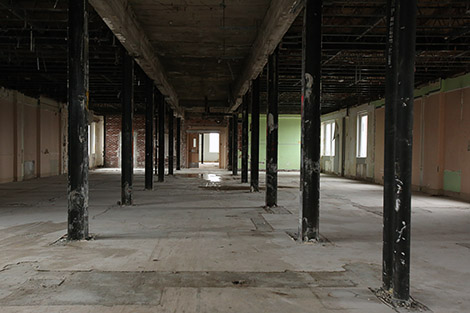 Updated with additional photos of the demolition, link below.
*************************
Toronto-based developer Amit Sofer, president of TVM Group, received a Planning Act exemption from city council Monday, a big step towards achieving his plan to transform the former Plummer Hospital site into a luxurious 40-unit residential development known as Riverwalk Condominiums.
TVM Group bought the surplus waterfront property from Sault Area Hospital last year for $65,000, much lower than the original asking price of $4.9 million.
Since then, the Plummer site has been gutted by TVM.
Demolition has been going on since October.
The former Riverview facility, ambulance bay and old portables will be demolished soon.
The total cost for demolition is approximately $700,000, with the cost of construction estimated at $10 million to $12 million, Sofer told reporters after Monday's council meeting.
With Monday's unanimous council approval, Sofer said he hopes to begin taking orders as early as Tuesday morning for the units he plans to build.
A sales office will open in mid-June at 756 Queen Street East.
Meanwhile, more details on the condominium and contact information to place orders for condo units may be found by going to theriverwalk.ca
Sofer told council he plans on opening Riverwalk Condominiums by October 2015, but he is confident units will sell quickly and enable the condominium to open up before then.
"To date, we've had some fantastic response, the response has been overwhelming," Sofer said to SooToday.com.
Riverwalk Condominiums will consist of one, two and three-bedroom units.
Size of the units range from 830 square feet to 1800 square feet.
Prices will start at $224,900 and top price will be $389,900, Sofer said.
There will be a common area for residents, comprised of a fitness room, sauna, a TV room, a community kitchen and a rooftop terrace for barbecuing and planting.
"Because it is a redevelopment we don't have to wait until spring to start (constructing the units)," Sofer said.
"We can begin construction at the beginning of November, December or February because it's all indoor construction, so that can cut up to six months out of any time delay…again, the response we've had is nothing short of fantastic and I can anticipate we could do better than October 2015."
"As we approach two-thirds of the units being sold we would then begin to go into the construction phase," Sofer said.
Sofer received a Planning Act exemption from Council Monday in regards to development of the site because the property fits in with municipal zoning bylaws and the building itself is structurally sound.
Council and staff are especially pleased that Sofer has agreed to donate property which will widen the Hub Trail near the site, along with property at the southeast corner of the site for public use.
Phase 1 of the redevelopment process involves only the original five-story component of the Plummer site.
Phase 2 will involve transformation of the former Plummer site's renal clinic into a combination of residential and food-oriented space (a restaurant and grocery store combination) for both residents and the general public to enjoy, Sofer said.
Sofer estimated Phase 2 would start "probably two or so years from now, once we've got Phase 1 complete and buttoned up and everybody is in there and impressed with what they see."
Sofer told council he is currently in discussions as to what to do with the former General Hospital site, "but there is nothing concrete at this point."
Sofer said hazardous substances such as lead and asbestos have been removed from the old Plummer site.
"There were no surprises…we've done it before in another hospital so we knew what to expect."
Sofer was greeted with applause from council, and councillors Susan Myers and Terry Sheehan expressed their appreciation that Sofer has decided to develop the Ward Two property.
Sheehan said he took a tour of the old Plummer site interior and said the demolition work done was "phenomenal," commending Sofer's team with accomplishing a complete gutting of the building without the usual noise associated with demolition and construction.
Sofer told council he has done several other large-scale projects in relation to transforming old sites into new residential and commercial sites, with "as much experience as anyone in Ontario at this point."
One of those projects is the refurbishing of the old St. Joseph's Hospital in Peterborough into a 30-unit luxury residential facility.
"We've done this before and expect to exceed all expectations," Sofer said.
Sofer said he is "dedicated to heritage" and likes to specialize in refurbishing of old buildings instead of building new structures.
In regards to the old Plummer site, Sofer said "it would be impossible to duplicate a building of that strength…the integrity of the structure could never be replicated."
(PHOTO: view of the fifth floor of the Riverwalk Condominiums development, currently in demolition stage at the Plummer site April 29, 2014. SooToday.com/Kenneth Armstrong)