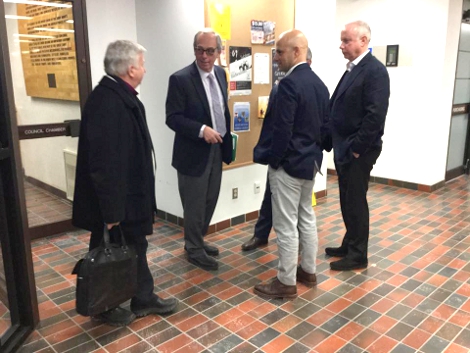 A developer who presented a proposal for a major development on the city's Gateway property has "suspended" his interest in the property.
In a letter to the city dated Thursday, lawyer Bob Paciocco writes that his client made the decision "in light of recent events."
The city sent a letter to Paciocco last week demanding that his client, Toronto developer Paolo Rovazzi, clarify the roles of two men - Shaun Rothberg and Henry Cole - who were there during presentation to council on the proposed Canal Village Development.
It has since been learned that Shaun Rothberg, who spent six months as interim chief financial officer at Algoma Public Health, is actually Shaun Rootenberg, a man convicted of multiple counts of fraud in 2009.
"Our client remains interested in Sault Ste. Marie and continues to pursue other development opportunities in the city," Paciocco writes in a letter included as part of the agenda for the next council meeting, which is scheduled for Monday.
Rovazzi told SooToday last week that it was Rothberg/Rootenberg who convinced him to come to the Sault, but that neither Rothberg nor Cole would have any role in the development.
*************************
Previous SooToday coverage of this story:
Beleaguered health unit board refuses to hear workers
Rothberg not part of proposed medical grow op, says proponent
Ministry orders financial audit of APH board
How on earth did this man end up overseeing Algoma Public Heath's cash?
City raises red flags over Gateway developers
PHOTO: Canal Village Development proponents speak with Frank Shunock (left) following their presentation to City Council on Monday, January 12. David Helwig for SooToday.