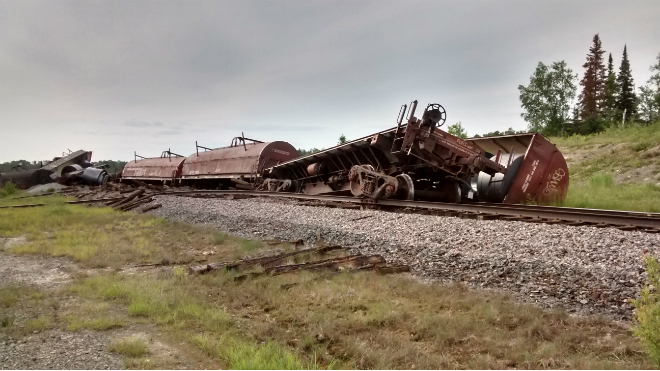 A derailment that occurred around 30 kilometres west of Sudbury Saturday afternoon should be cleaned up by Wednesday night, said the company that operates the train involved in the derailment.

"We are cleaning up presently," said Manon Beauchemin, vice-president of administration with Geneese & Wyoming Canada Inc., which owns Huron Central Railway, the small rail company involved in the derailment.

Because there were no injuries or hazardous materials on board the train, Beauchemin said the company is responsible for the investigation.

Huron Central operates a 278-kilometre rail line from Sault Ste. Marie to Sudbury, that interchanges with Canadian National and Canadian Pacific. Its customers include Essar Steel and Domtar.

The train that derailed Saturday, near the intersection of Municipal Road 4 and Bay Street, was carrying large steel coils. It was headed east, from Sault Ste. Marie toward Sudbury.

Beauchemin said around 15 cars left the track.
(PHOTO: A Huron Central train derailed west of Sudbury this afternoon at Municipal Road 4 and Bay Street, around 30 kilometres west of the city. Jonathan Migneault/Northernlife.ca)