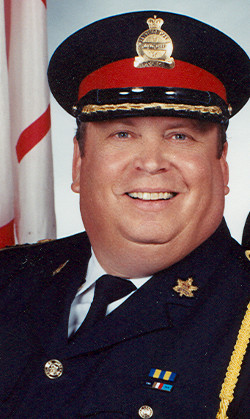 After 40 years in law enforcement, Sault Ste. Marie Police Service Deputy Chief Bob Kates (pictured) will be retiring effective September 26.
Kates informed Robert Keetch, Sault Police chief, of his decision Tuesday.
"The team I've worked with is part of the reason why I've stayed for 40 years," Kates told SooToday.com Wednesday.
"I could have retired after 30 years or 35 years of service, but I love coming to work everyday and I've truly enjoyed my job for 40 years, but there does come a time when it's time to take advantage of retirement, and there are certainly things I'd like to do when I retire."
Kates, 62, is a Sault native whose parents owned and operated Connell Furs on Queen Street East.
He began his career in law enforcement in early 1974 with the Toronto Police Service (known at that time as the Metropolitan Toronto Police Service).
Soon after, an opportunity arose to join the Sault Ste. Marie Police Service, and Kates began as a constable with the local department October 14, 1974.
Kates first worked as a patrol officer before moving to the morality bureau, then to intelligence in 1986 after being promoted to sergeant.
He was promoted to staff sergeant in 1988 and worked as a detective, and was then promoted to superintendent in charge of administration in 1991 before becoming deputy chief in 1994.
"I'm proud of our organization," Kates said.
"We have, over the 40 years that I've been here, kept the crime rate low and solved major crimes."
"A big personal highlight, other than being fortunate to progress through the ranks and become deputy chief here, was the fact I served 13 months in Wawa as interim chief (from August 2009 to September 2010)."
"I was able to work with a great group of officers in a community that was transitioning to the OPP…I certainly enjoyed working with the officers there and the community."
Police work, along with its rewards, has had its challenges as well, Kates said.
"As police officers we're all frustrated when, after we arrest people for crimes like break and enters, shortly after those individuals are arrested they're released and back in the community and we arrest the same people over and over again, but other than that I think it's been a great career with no regrets whatsoever."
"Technology has changed policing so much," Kates said.
"When I started as a young patrol officer I used a radar device that is now in the police museum, so it's probably time to retire when some of the equipment I used is in the museum," Kates laughed.
"We've certainly kept up with technology and our police service has progressed, and we're certainly one of the leading police services in Ontario."
"Through the changes in technology we've been better able to investigate crimes using different equipment, using DNA in solving certain crimes," Kates said.
"We take full advantage of social media like Facebook and Twitter in communicating with the public and informing them of what's going on, to get our message out and work with the public."
Kates has five children and one grandchild.
His son, Mark, is a Greater Sudbury Police Service constable.
Kates has one daughter who lives and works in the Sault, with three other daughters at university, two of them in medical school.
"I'm looking at spending some more time with my family and friends, and some people say I should work on my golf game…I know my wife will certainly have a long list of things that I need to get done around the house as well," Kates said.