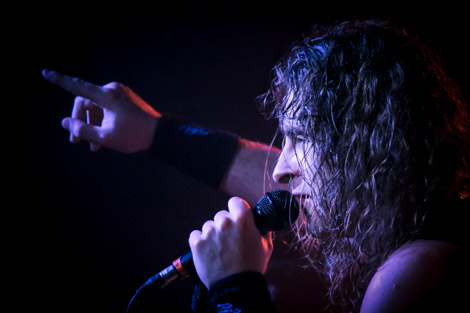 Thanks to Johnny Pints Presents… last night was as far from a typical Sault Ste. Marie Monday night as one could get.

Mr. Pints (AKA J.D., AKA John Pearce) hosted a night of straight-up, in your face, ear-piercing rock and roll at the Canadian Night Club with Australia's Airbourne and special guest, Bleeker Ridge from Orillia, Ontario.

Local supporting acts included the Suicide Kings and Garden of Bedlam.

Often and aptly compared to fellow Aussie band AC/DC, Airbourne aren't reinventing the rock and roll wheel.

In fact, the only thing they're missing is a grown man in a school boy uniform.

Still, what they do, they do exceedingly well by sticking to the tried and true rock basics - solid rock/blues riffs, fierce guitar solos, and howling vocals - for a no frills, all punch live concert experience.

Also, they're loud.

So loud, in fact, the earplugs vibrated out of our ears on more than one occasion.

Airbourne is currently touring North America behind the band's third studio release, Black Dog Barking, from which the first single, Live It Up, reached No. 3 on the Canadian Rock Alternative Chart.

Other Canadian dates on this tour include Thunder Bay, Winnipeg, Toronto, Calgary and Edmonton.

Next up for Johnny Pints Presents… are the Dayglo Abortions at the Roosevelt Hotel (306 Korah Rd.) on Monday, September 9 with special guests Last of the V8 Interceptors, Destroilet, Cross Dog, and Jack Spade.

Tickets for this show are $10 in advance or $15 at the door.

You must be 19 or older to attend.