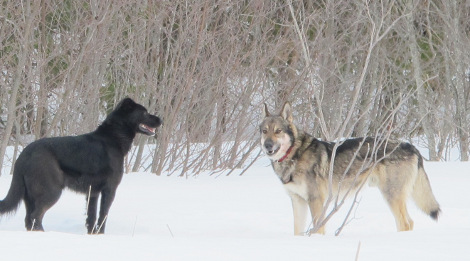 Two dogs believed to be responsible for killing a number of deer in the Point Aux Pins Drive area could be put up for adoption within days.
Sault Ste. Marie Ministry of Natural Resources (MNR) staff captured the dogs alive after residents in the area reported seeing the dogs chase down and kill several deer.
Last Wednesday, Sault Ste. Marie Humane Society manager Cindy Ross said the dogs will be held for five days, it was unclear what would happen to them once that period elapsed.
Ross clarified today that the dogs are now in the possession of the society and will be put up for adoption once space becomes available.
The adoption side of the society is currently at maximum capacity.
She said she has no concerns about behaviour of the dogs, noting that they are very friendly and social with both humans and other animals in the building.
"It appears they were doing what they needed to survive," said Ross regarding the killing of the deer.
She also said that the condition of the dogs has improved in their week at the society, having gained some of the weight lost since running free.
According to tips received by Ross, the dogs were likely running free for at least a month before their capture.

The MNR is still in the process of investigating who owns the dogs and says that charges will be laid under the Fish and Wildlife Conservation Act.
(Photo: submitted)
*************************