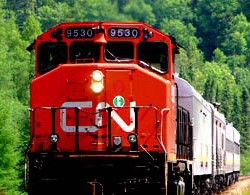 SooToday.com received the following letter from loyal reader Dawn Rowe, who is concerned the cancellation of the ACR passenger train will keep her from being able to access her camp.
*************************
This is my plea to keep the ACR passenger train running.
We camp owners along the line depend on this vital link.

One March break our twenty-month-old daughter's temperature kept rising.
In the morning, her temperature skyrocketed so we made a quick decision to break camp and get her to the hospital.
The conditions were such that just getting to the tracks was difficult, but we got there just in time.
We were very grateful that the train provided this emergency route out from camp.

When our adopted daughter arrived at not quite five years old, she couldn't handle the cold.
This meant for several years our family made our frequent trips to camp by train in the winter.
My two girls have fond memories of waiting for the train, flagging the train down and enjoying the camaraderie of other rail travellers.

For many years our family hosted train/cross-country ski weekends to our camp.
It was not uncommon for our daughters to have groups of 20 or more young people up.
It was our delight to share our love of the wilderness with these young people.
The ACR was the only reasonable means of transportation for groups of this size.
I am constantly being told by these no longer young people what fond memories they have of those train trips to camp.

My husband and I are now senior citizens and experiencing some health concerns.
We count on the train to get us out if we are not well or if we become injured.
As the years march on, I was hoping to use the train more frequently to extend the number of years that we will have to enjoy the camp experience.
With major focuses on tourism and economic feasibility I wanted to express that there are sentimental human factors to this decision as well.
The Algoma Central Railway has played an important role in allowing my family to enjoy The true Northern Ontario life style.

Respectfully submitted, Dawn Rowe.
*************************