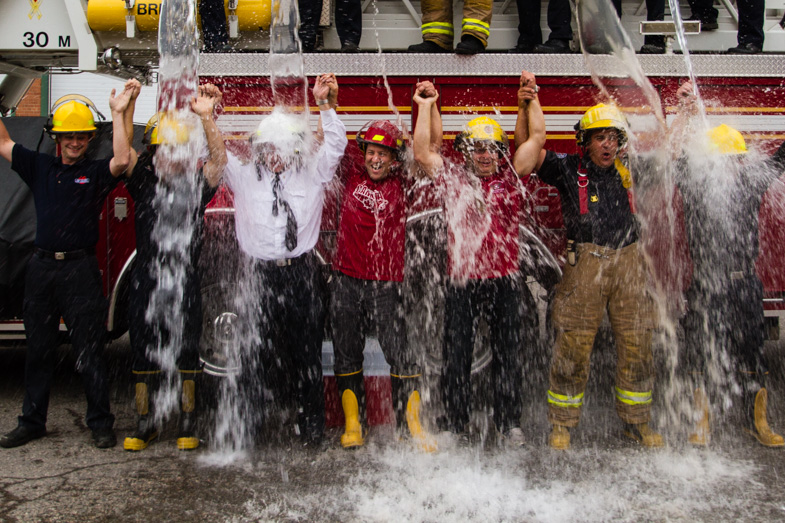 Sault Ste. Marie MPP David Orazietti along with representatives from the Sault Ste. Marie Fire Services took the ALS Ice Bucket Challenge Friday afternoon at the Regional Emergency Services Complex on Old Garden River Road.

Joining Orazietti under the ice on that gloomy rainy day were Sault Ste. Marie Professional Firefighters Association President Rob Greve, Platoon Chief Damon Ferris, Jeremy van Hoek, Graeme Patemen, Dave Boucher, and Neil Brocklebank.

"It was great to be here today with the Sault Ste. Marie firefighters in support of a great fundraising cause for ALS and taking the Ice Bucket Challenge on this beautiful day in Sault Ste. Marie," Orazietti joked.

He then issued challenges to Sault Area Hospital CEO Ron Gagnon, USW Local 2251 President Mike DaPratt, and Donna Hillsinger, general manager of Algoma's Water Tower Inn.

"I feel pretty good. I'm feeling pretty alert right now, and this is a great cause for charity. I want to thank the Sault Ste. Marie Fire Services and all the guys who are out here today in support of the cause," Orazietti concluded.

ALS Canada is currently reporting a total of $11.6 million in donations from the viral Ice Bucket Challenge.

To donate, please click here.