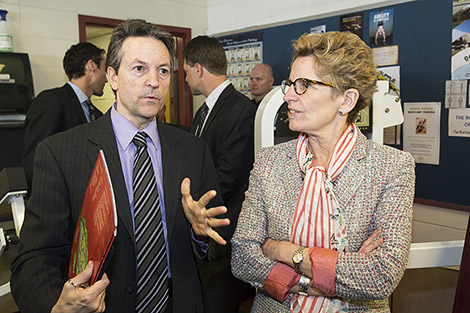 NEWS RELEASES
DAVID ORAZIETTI, MPP
*************************
Additional Provincial Post-Secondary Funding for Will Help Boost Enrolment and Create Local Jobs
Today, David Orazietti, MPP and Premier Kathleen Wynne announced that the province's Northern Ontario Heritage Fund Corporation (NOHFC) is providing Algoma University with an additional $2 million to improve and expand the George Leach Centre, which will allow the university to offer additional athletics programming for students and enable it to host larger sporting events that will help strengthen the local economy.
"Our government's decision to pass legislation making Algoma the 19th university in Ontario is resulting in ongoing economic investments in our community," said Orazietti.
"We continue to provide strong support for post-secondary education at Algoma University and Sault College with significant investments, such as today's announcement of a further $2 million to expand key infrastructure at AU, which will benefit local residents as well as attract more students to Sault Ste. Marie."
This provincial funding will allow Algoma University to expand its athletics centre by 10,000 square feet and provide greater space for sports and fitness training.
In addition, the expansion of the athletic facility will create five local jobs.
Since October 2003, the provincial government has approved over $897 million towards more than 5,900 projects, leveraging over $3.2 billion in investment.
NOHFC has helped create or sustain over 22,915 jobs and work placements across the North.
In Sault Ste. Marie, the NOHFC has approved over $77 million in funding for 709 different projects that helped maintain or create 2,598 jobs
"The Algoma University community deeply appreciates the Province's support for these much-needed upgrades to our facilities," said Richard Myers, Algoma University President. "The improvements we are planning will benefit not just our student athletes, but all those who use the GLC -- including a very large number of community members."
Since 2003, Algoma University has received an increase in operating funding of 150 percent. Additional provincial government investments to support Algoma University include:
Provincial legislation establishing Algoma University as an independent institution (Bill 80)
$10.3 million for new Biosciences & Technology Centre
$7.6 million for transition to independent university and to expand high quality degree programs
3.1 million for facility improvements and modernization
$879,458 for research infrastructure
$800,000 for Invasive Species Research Chair
$518,808 for endowment foundation - Ontario Trust Program
$295,015 for Ontario Digital Games Business Incubator
$250,000 to develop Computer Gaming Technology Centre
$130,833 for services for students with disabilities
*************************
NOHFC Funding Helps Local Business and Strengthens Sault Ste. Marie's Economy
Today, David Orazietti MPP and Premier Kathleen Wynne announced the province's continued support of businesses in Sault Ste. Marie through the Northern Ontario Heritage Fund Corporation (NOHFC), with an investment of $427,250 to support the purchase of new hydroelectric equipment at Soo Foundry & Machine.
"This investment continues to reinforce our government's commitment to supporting jobs in Sault Ste. Marie and economic growth in Northern Ontario," said Orazietti. "We recognize that strengthening small and medium-sized businesses, like Soo Foundry and Machine, plays a vital role in making our city's economy stronger."
Today's investment which represents 50/50 grant/loan will allow Soo Foundry & Machine, a company that has extensive knowledge and experience in the hydroelectric sector, to purchase major pieces of equipment including a CNC horizontal boring mill to facilitate the expansion of their machine/fabrication shop in Sault Ste. Marie.
The province delivered the funding through the NOHFC Program which supports Northern businesses in order to protect and create local jobs.
This investment is helping protect 10 jobs that will contribute to strengthening the economy.
"At Soo Foundry & Machine we really appreciate the financial support we have received from the NOHFC," said Robert Cohen, Soo Foundry & Machine President.
"This assistance from the NOHFC provides Soo Foundry and many companies in Northern Ontario, the ability to purchase new machinery and technology they would not otherwise be able to afford, expand sales, maintain and hopefully increase existing employment, and become more efficient and competitive. It is a great program that really helps organizations in our community become more successful."
Since 2003, the NOHFC has invested $77 million in 709 projects in Sault Ste. Marie, creating or sustaining more than 2,598 jobs
Find out about NOHFC and its programs.
*************************
(PHOTO: Algoma University President Dr. Richard Meyers takes Ontario Premier Kathleen Wynne on a tour of the George Leach Centre March 31, 2014. SooToday.com/Kenneth Armstrong)
*************************
More SooToday.com coverage of the Premier's visit on Monday