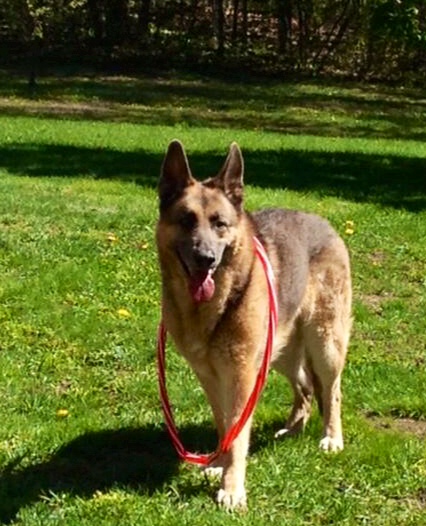 Sootoday.com received the following letter of thanks from Trina Avery about a close call with her family dog, Ralph.
*************************
Good morning,
I am writing this morning to give recognition and thanks to some wonderful people/neighbors who notified and assisted me last night when our family dog, a German shepherd named Ralph, went over the ice and into the water at our home at Pointe Louise.
This is something a pet owner never wants to experience.
We moved to the area in December while the Bay was full of ice.
The ice is now melting away but is still present directly in front of our home.
My son let Ralph outside and I am guessing something caught our dogs attention and he headed on the ice.
He walked right to the edge of where the ice ended and the water began and without hesitation just kept going, not realizing it would end and of course falling into the water.
He was unable to get out.
I received a panicked knock on my door and a neighbor advised that he was in the water.
She graciously stayed with our two boys who were upset and crying and I left in the car to her home which was closer to the location of our dog.
When I got there her husband was out trying to call him in and I too began shouting to him swim to shore, but he was scared and kept trying to climb back onto the ice the opposite way.
At this time, another neighbor came over to assist us and we were able to get a boat in the water to row over to Ralph and I pulled him in.
We got to shore and Ralph and I were driven back to our house.
My children were calmed and Ralph was warmed up and settled in no time.
These people are heroes in my book.
Without their help I'm not sure what I would have done or the outcome would have been much worse for our Ralph.
There are no words to really express how thankful we truly are.
One million thanks to the Palumbos and Mr. Markevich.
Also, thank you to our veterinarian and friend Franca Deluco for taking my frantic after-hours call. You are the best!
We are forever grateful.
Sincerely,
Trina, Brent, Owen, Greyson and most importantly, Ralph
*************************